Pizza is a popular dinner recipe in the United States and for good reason. I mean who doesn't love of good pizza recipe. We'll be sharing different types of pizza you can make in the air fryer with the various types of crusts you can use too.
Are you ready for this amazing world of gooey cheese and yummy toppings? Your options are endless. Be sure to click through to each recipe to get the full details of each individual recipe. Let's get to it!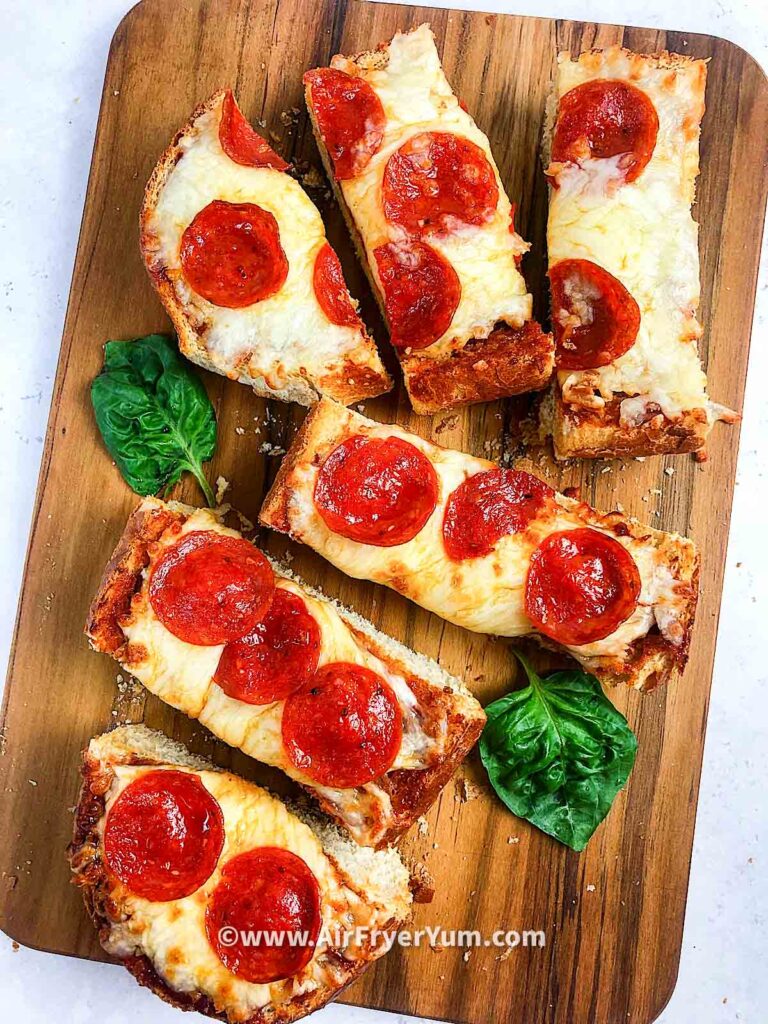 Types of pizza
Margherita: A classic Neapolitan pizza topped with tomato sauce, mozzarella cheese, fresh basil leaves, and olive oil.
Pepperoni: A favorite in the United States, it's usually topped with tomato sauce, mozzarella cheese, and slices of pepperoni sausage.
Hawaiian: made with tomato sauce, mozzarella cheese, ham, and pineapple.
BBQ Chicken: Typically made with barbecue sauce, grilled chicken, red onions, and mozzarella cheese.
Four Cheese: for cheese lovers. It usually consists of a combination of mozzarella, cheddar, Parmesan, and Gorgonzola or another blue cheese.
Vegetarian: A pizza loaded with a variety of vegetables such as bell peppers, mushrooms, onions, olives, and tomatoes.
Sicilian: A thick-crust square pizza with tomato sauce, cheese, and various toppings.
Meat Lovers: Packed with a mix of meats like pepperoni, sausage, bacon, and ham.
Calzone: this is more of a pizza style than type, it's pizza dough filled with sauce, cheese, and various toppings. The pizza folded-over and baked.
Join our Air fryer recipes group on Facebook!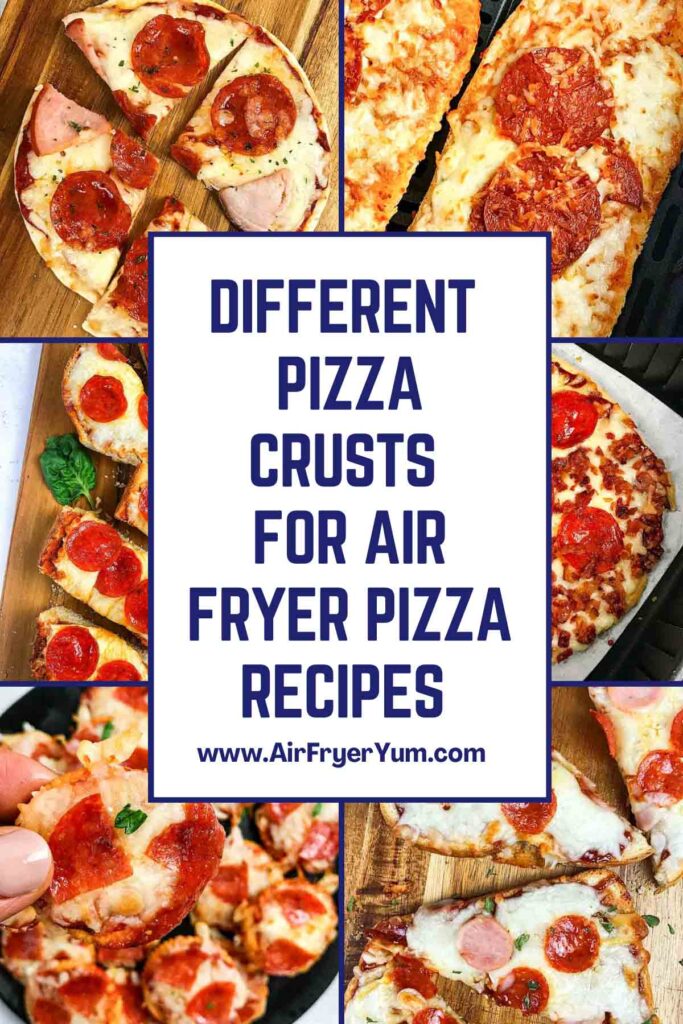 Types of pizza crust you can use
Based on the different types of pizza crusts there is, you can make different types of pizza in the air fryer. From grilled cheese pizza, pizza crescent rolls and lots more.
Traditional pizza dough
French bread
Texas toast
Tortilla
Regular bread
Ground meats (beef and chicken
Mushroom (portobello mushrooms)
Fathead dough
English muffins
Bagels
Flat bread
Pita bread
Crackers
Refrigerated biscuit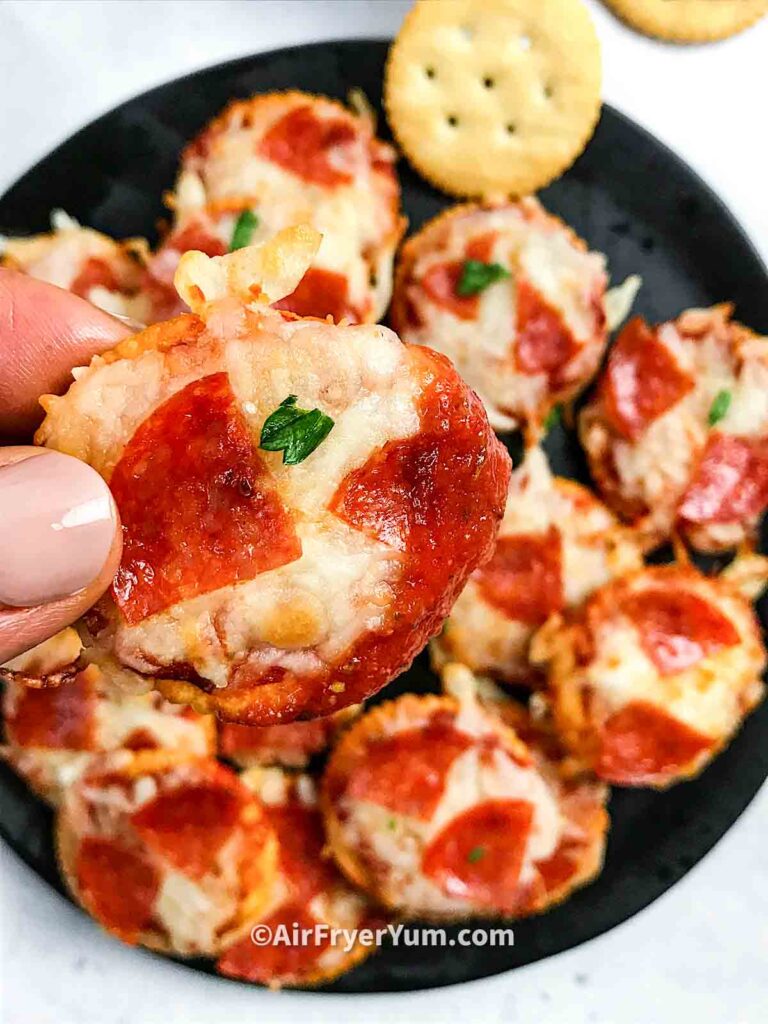 Air fryer pizza recipes
This is a growing list of different types of pizza you can make in the air fryer meaning that more pizza recipes would be included in this article as we publish them. If you'd like to get email updates on these please sign up for our free weekly newsletter so you don't miss an update.
1. Air fryer French bread pizza
French bread pizza is another variation of pizza where a baguette or French bread loaf is used as the base instead of traditional pizza dough. It's a quick and convenient way to make individual-sized pizzas with a crispy bread crust.
Air fryer French bread pizza
Air fryer French bread pizza is one of the easiest and comforting busy weeknight dinner recipe. An all time favorite with kids and adults alike. 
Get this recipe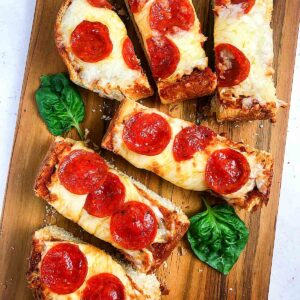 Naan bread pizza is a creative twist on traditional pizza where naan bread, a type of Indian flatbread, is used as the pizza base instead of regular pizza dough. It combines the flavors and ingredients of pizza with the convenience and quick cooking time of naan bread.
Air fryer Naan bread pizza
This Air fryer Naan bread pizza is a quick and easy way to enjoy your favorite Friday night dinner in less time. Making Naan pizza in the air fryer makes all the difference and is easily customizable with a lot of topping options.
Get this recipe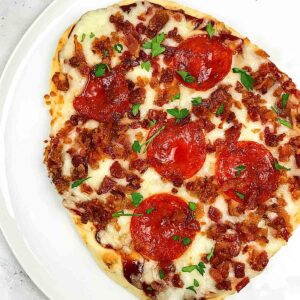 Pizza toast is a simple and popular snack or breakfast item that involves toasting bread with pizza toppings. It's a quick and easy way to enjoy the flavors of pizza without the need for pizza dough.
Air fryer Pizza Toast
Air fryer Pizza toast is a super easy  and tasty snack that gets ready in less that 10 mins. This recipe is traditionally made in the oven, making it in the air fryer takes it up a notch by making your life easier and saving you time. 
Get this recipe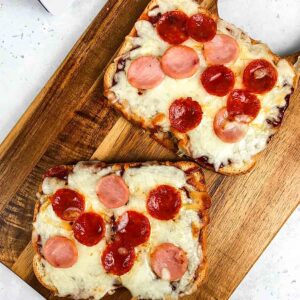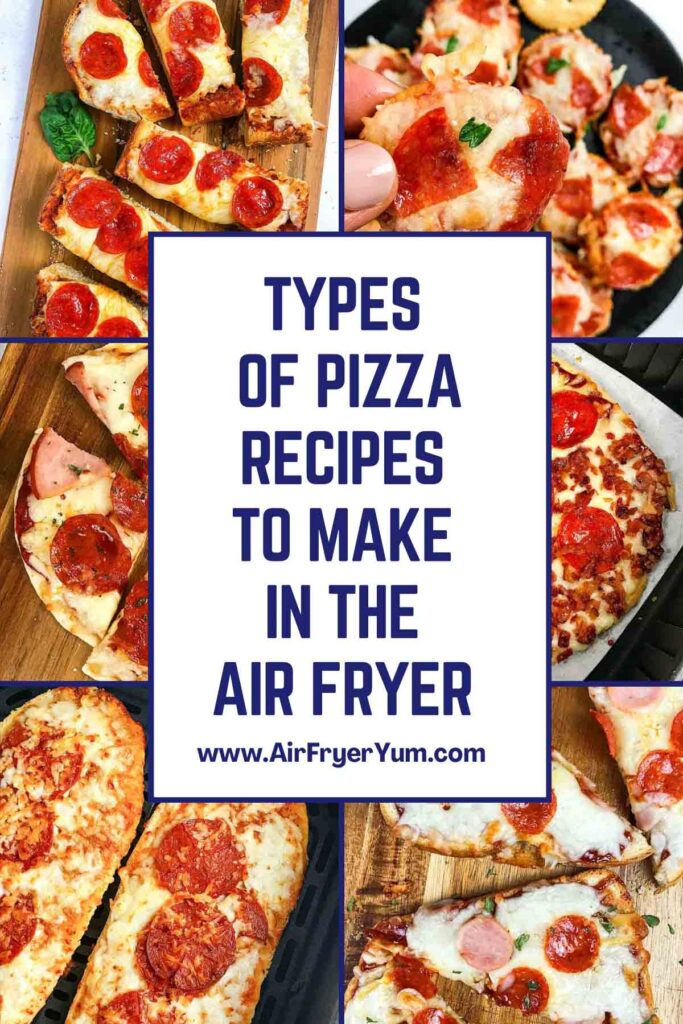 Pizza crackers are a delicious and convenient snack that captures the flavors of pizza in a crispy, bite-sized form. They are similar to regular crackers but are seasoned and topped with pizza-inspired ingredients.
Air Fryer Ritz Crackers Pizza (Pizza crackers)
Ritz crackers pizza is a super easy 4 ingredient snack or appetizer that perfect for any occasion! Pizza crackers are always a hit in my home cos it's also a great after school snack that comes together in no time. 
Get this recipe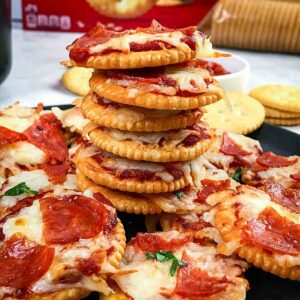 Air fryer frozen pizzas
5. Air fryer Frozen French bread pizza
Frozen French bread pizza in air fryer
Have you tried cooking frozen French bread pizza in the air fryer? Pizza is one of the easiest things you can make in the air fryer. With the different types of pizza you can make in the air fryer, this comes in handy. 
Get this recipe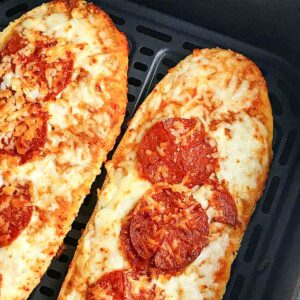 6. Air fryer frozen pizza bagels
Frozen pizza bagels in air fryer
Making frozen pizza bagels in the air fryer is one of my favorite ways to make them these days and for good reason. No need to turn your oven cos these get ready in less time than it takes to preheat the oven.
Get this recipe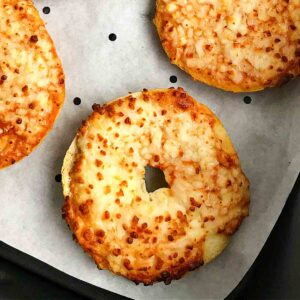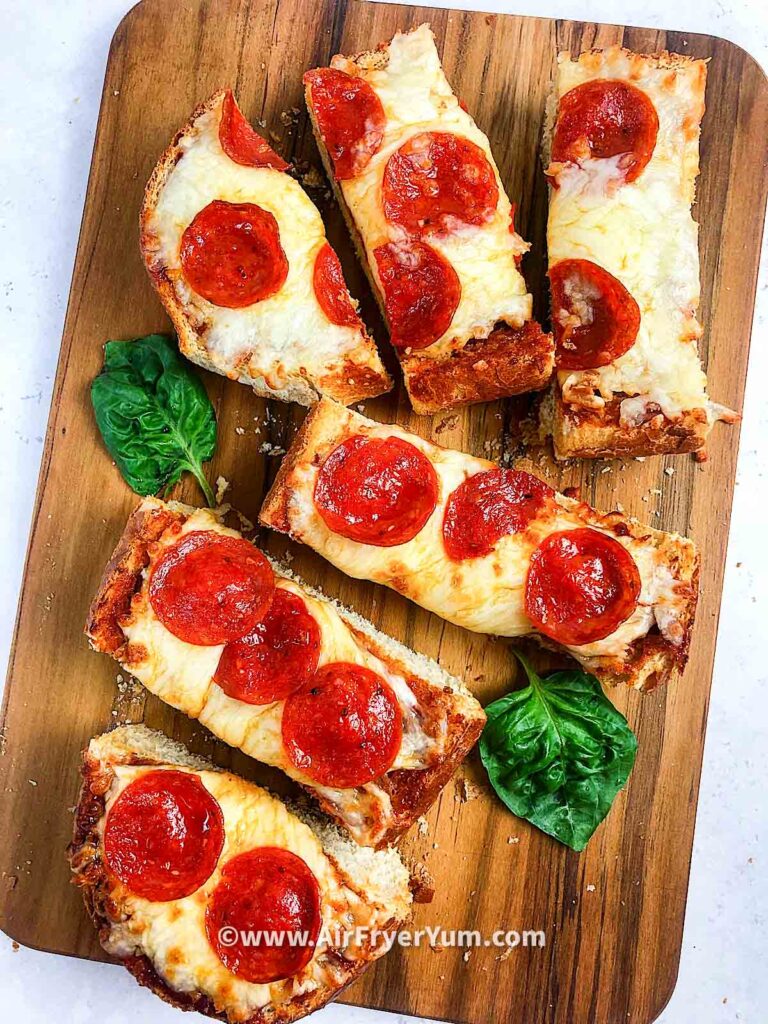 How to store and reheat pizza
Pizza can be stored in an airtight container in the refrigerator for up to 3 days. To reheat, place pizza in air fryer basket and air fry at 350°F for 3 to 5 mins or until heated through.
How to reheat Pizza in the Air fryer
Learn how to Reheat Pizza in Air Fryer in super easy steps. The air fryer reheat leftovers to perfection and reheating pizza in the air fryer is the best way to enjoy your leftovers 
Get this recipe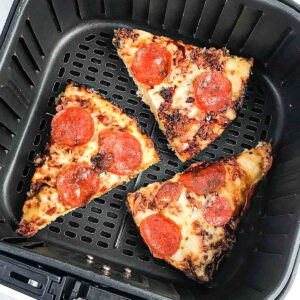 Air frying tips
You do not need to preheat the air fryer.
Pepperoni is notorious for flying around in the air fryer. To prevent this, you can add it right after the sauce and cover with mozzarella cheese. Alternately, place the pizza in the air fryer with all topping except the pepperoni. Let the cheese melt slightly then add the pepperoni using the melted cheese as glue.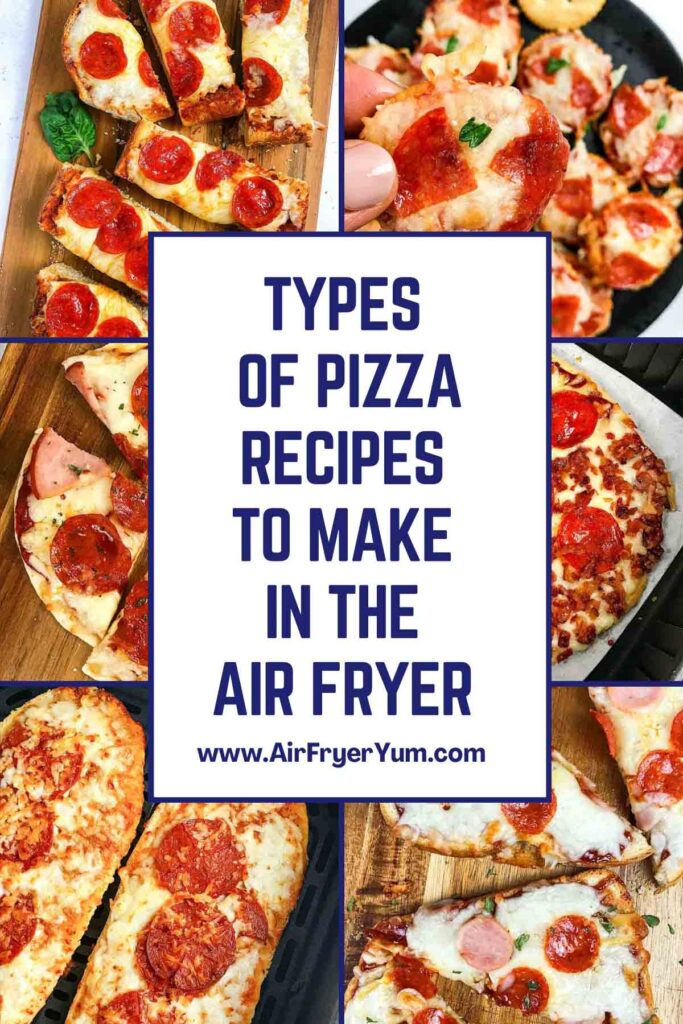 If you try this recipe, show it off on Instagram! Be sure to Follow and Tag @Airfryeryumblog on Instagram and use the hashtag #airfryeryumblog so we can see your recreations!
Air fryer recommendations
The links below may contain affiliate links. As an Amazon associate and affiliate to other merchants, this website may earn from qualifying purchases. Please read full disclosure here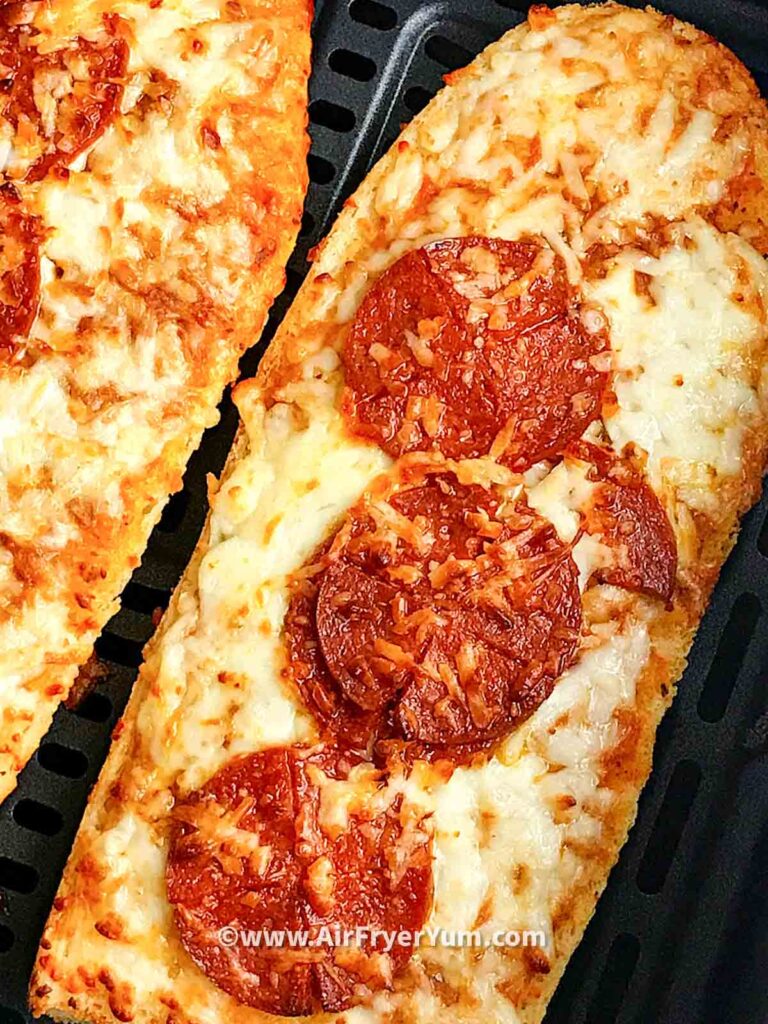 FAQs
How long to cook pizza in the air fryer?
This will depend on the type of pizza crust you are using. Bread crusts usually take about 5 to 7 mins while pizza with fresh dough will need the dough to be precooked first for 3 to 5 minutes before adding the toppings.

After adding the toppings cook for another 6 to 7 minutes or until cheese is melted.
What is the best pizza crust for air frying?
Any pizza crust you like would work perfectly in the air fryer. You can pick one from the ones listed in the blog post above.
What to serve with pizza?
Pizza can be enjoyed on its own or with a variety of sides from Mac and cheese to fries and lots more.
Did you find this collection helpful? Leave me a comment about it or any recipe idea you would love Air fryer 'yummed' and don't forget to share with family and friends.
Happy Air frying!
Love it? Pin it! Then follow Air Fryer Yum on Pinterest for more deliciousness!
Looking for more air fryer recipes? Sign up for our yummy newsletter and Follow along on Facebook, Instagram, Pinterest and Tiktok for updates. Remember to Subscribe to my YouTube Channel for weekly videos.
Air Fryer Yum's Pro Tip! Air fryer temperatures may vary depending on size, make and model. When making a recipe for the first time, start with less time, check for doneness then add more time as needed.
Loving your air fryer much? Join other Air Fryer Buddies in our exclusive free Easy Air Fryer Recipes Group on Facebook!
New to the world of Air frying? We've got you covered. Check out our helpful >>> Air fryer Resources!
Shop all air fryers and air fryer accessories at our Amazon store.
Did you make any these types of pizza in your air fryer? Awesome! Please rate it by clicking the stars ⭐️⭐️⭐️⭐️⭐️ when you leave a comment on the recipe. If you loved it please share the link to it with family and friends and in your favorite Facebook group.