Looking for a fast and straightforward way to make butterflied chicken legs in the air fryer? These Air Fryer Butterfly Drumsticks super easy to make, low carb, quick, delicious, and full of flavor! No need to spend hours making dinner that'll be gobbled up in seconds, forget the grill, relax and let your air fryer help create a fast weeknight meal instead!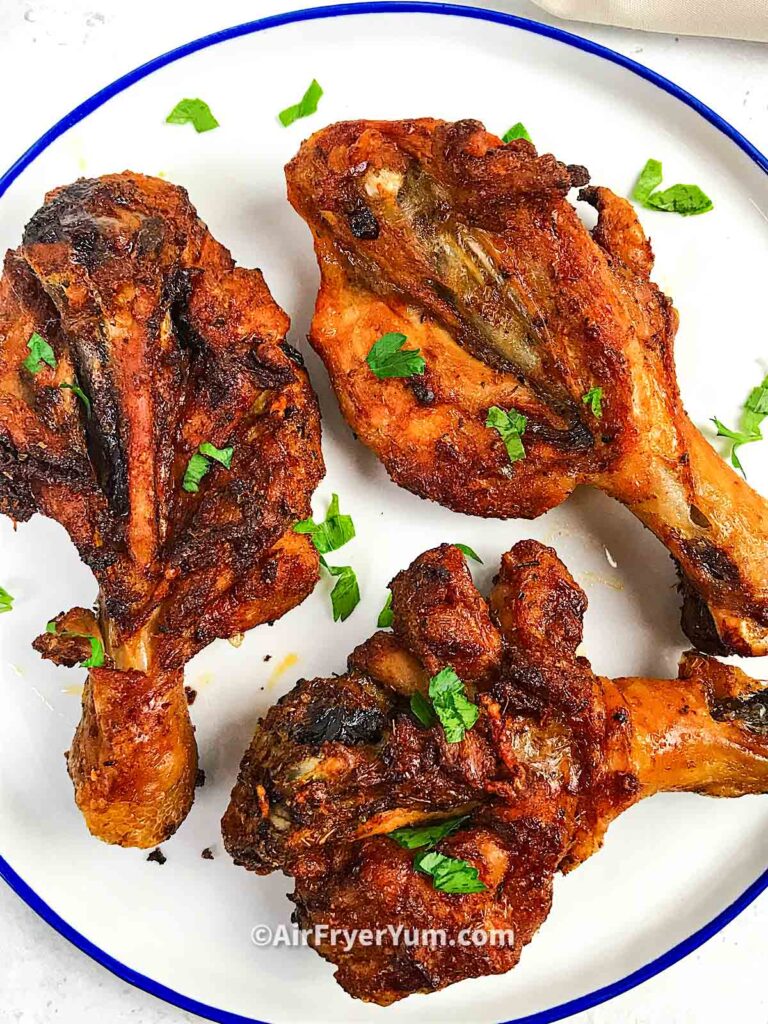 Air fryer butterfly drumsticks (Butterflied chicken legs)
This air fryer chicken drumsticks recipe is crazy easy. It's no secret that if you have kids, everyone wants the drumstick! For this reason, I'm always buying the chicken when it's on sale at the store because this simple air fryer recipe makes it a delicious and popular choice.
Butterfly Chicken drumsticks literally pair perfectly with any type of side dish, which is just one more reason that you'll want to enjoy this recipe. Keep it light and simple with a side salad, or make it hearty by adding some mashed potatoes or air fried baby potatoes.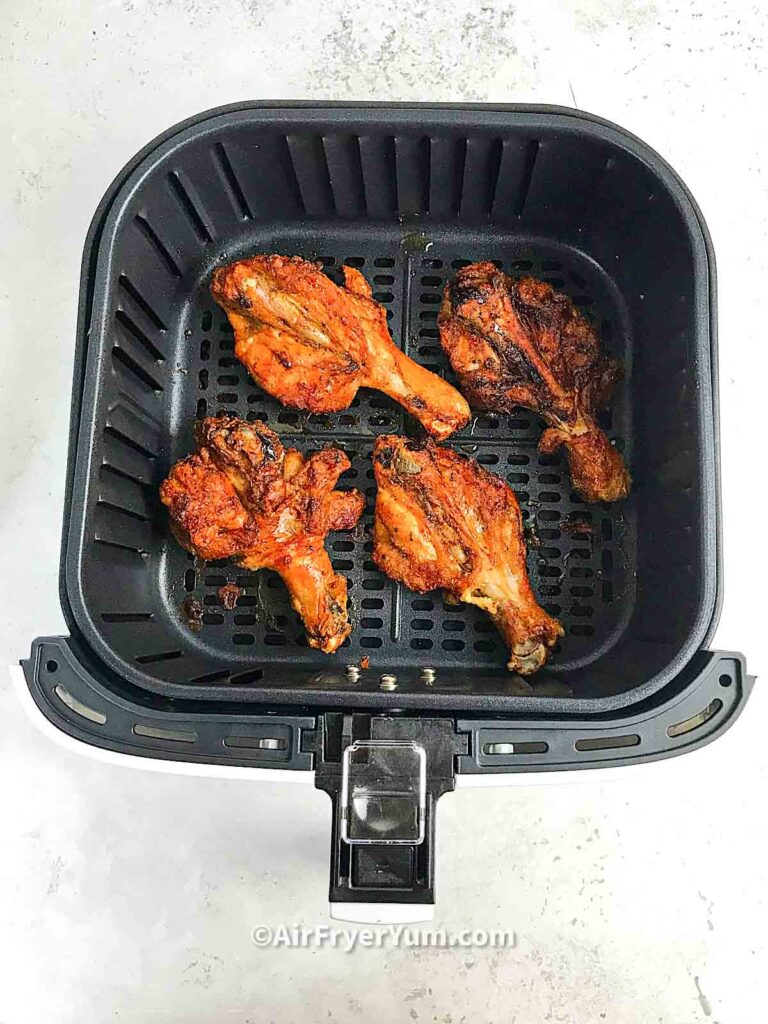 Why you'll love this recipe & why it works
These get ready way faster than when made in the oven. No need to deep fry so you get a healthier option too. Here are more reasons to love this air fryer butterfly drumsticks recipe.
Chicken drumsticks are affordable and super delicious.
Air fryer butterfly chicken requires minimal ingredients and yield maximum flavor.
Love crispy chicken! These are well seasoned, slightly crispy exterior and juicy inside.
Chicken is great for meal planning and can be combined with other food groups to create a healthy meal.
Butterflied chicken legs make for a great alternative to chicken wings
Related: Crispy air fryer drumsticks, air fryer chicken legs, The best air fryer chicken recipes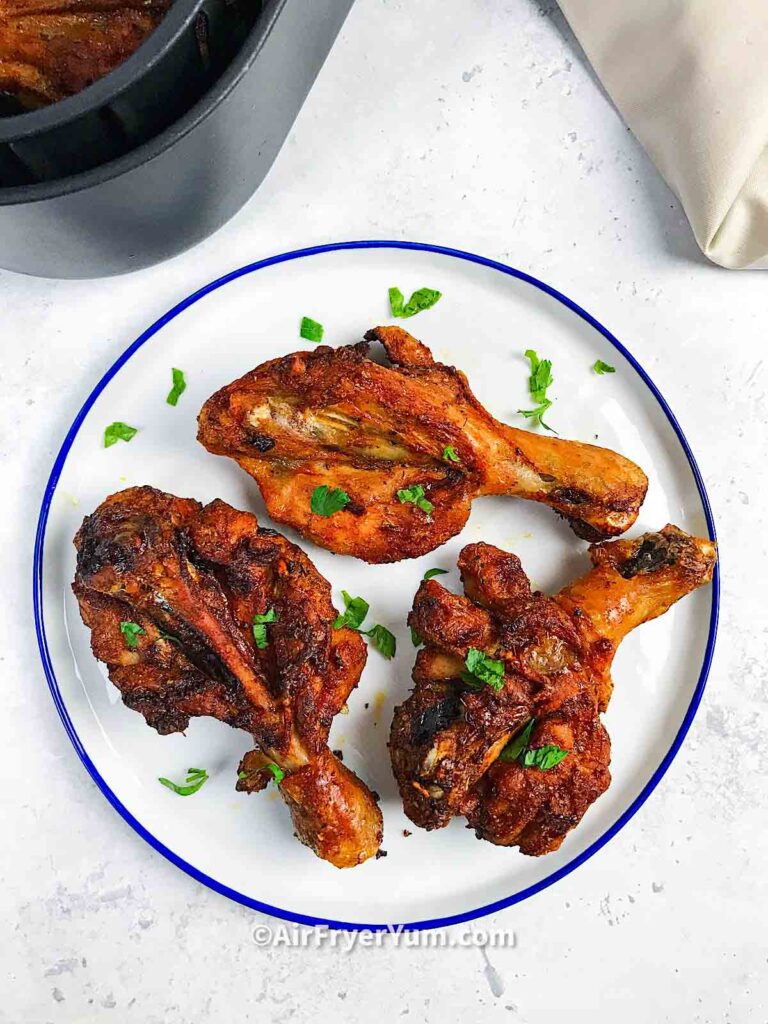 Ingredients
Chicken drumsticks
Oil
Paprika
Cayenne pepper
Garlic powder
Onion powder
Italian seasoning
Black pepper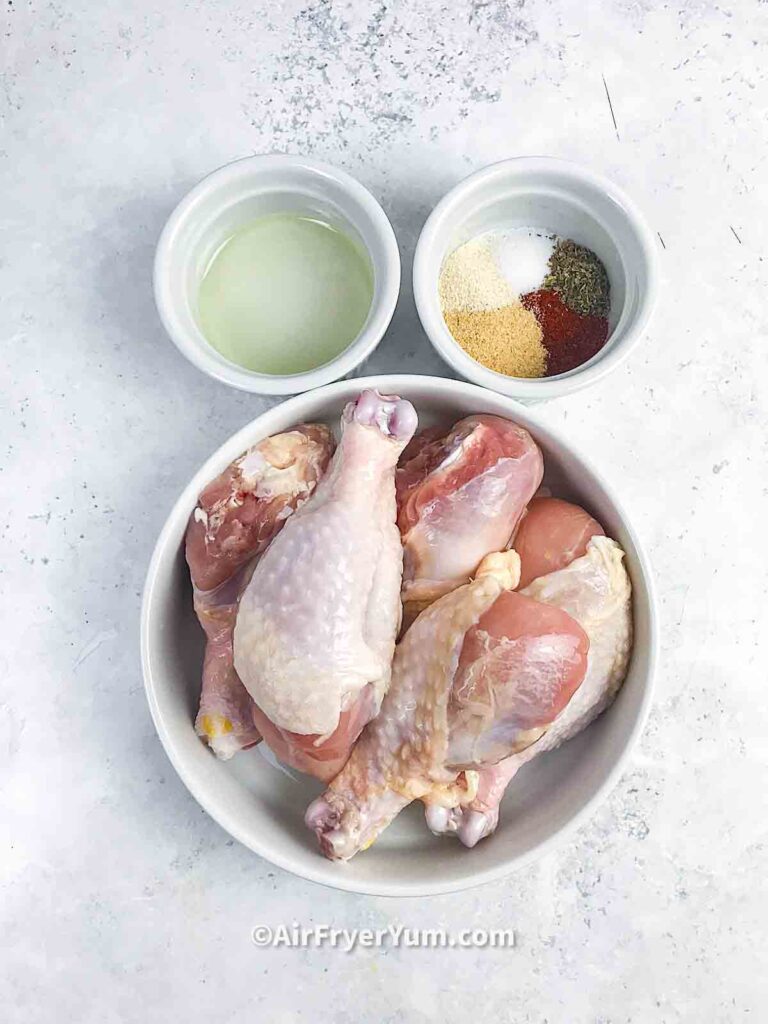 What is the best drumstick to split
Chicken drumsticks are split sometimes for the visual appeal and affordability as an appetizer. However most times just like spatchcock chicken, they are split to ensure faster and more even cooking.
Any chicken drumsticks would be fine but The best chicken for this is usually the very large chicken drumsticks to ensure it cooks through and in less time. You could also butterfly a Turkey leg.
How long do you cook butterfly chicken drumsticks in air fryer.
The length of time it takes to cook butterflied chicken drumsticks in air fryer will depend on the size of the chicken, the temperature at which it was cooked, if the air fryer was preheated or not and of course your brand of air fryer.
Generally speaking, chicken drumsticks would get ready anywhere between 25 to 30 mins depending the size and if the air fryer was preheated. A preheated air fryer will cook a couple of minutes less so keep an eye on it.
However the most important tool to check for doneness should be your trusty meat thermometer. The internal temp should read at least 165°F / 74°C to be considered fully cooked and ready to eat.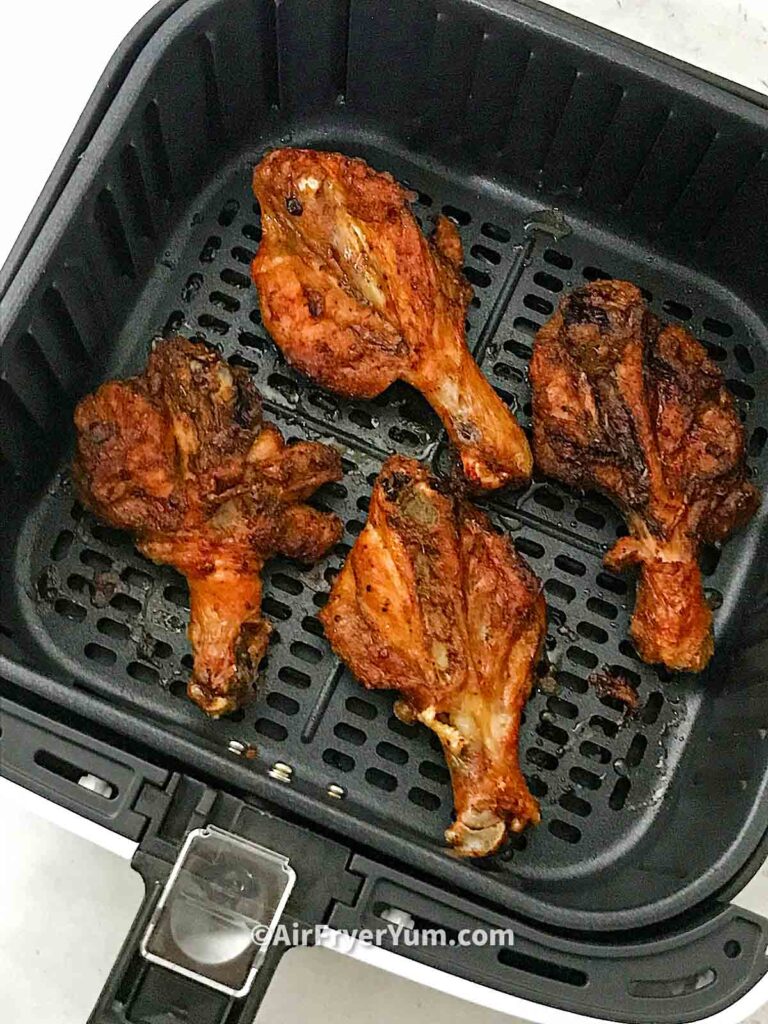 How to make butterfly drumsticks in air fryer
This is an overview of the recipe with step by step photos. Scroll down to end of post for a printable recipe card with the amount of ingredients and full recipe instructions.
Pat chicken dry, split drumsticks by cutting from one side of it from the thicker part of the drumstick to the thinner part that we like to hold when we eat it. Add the oil and seasoning.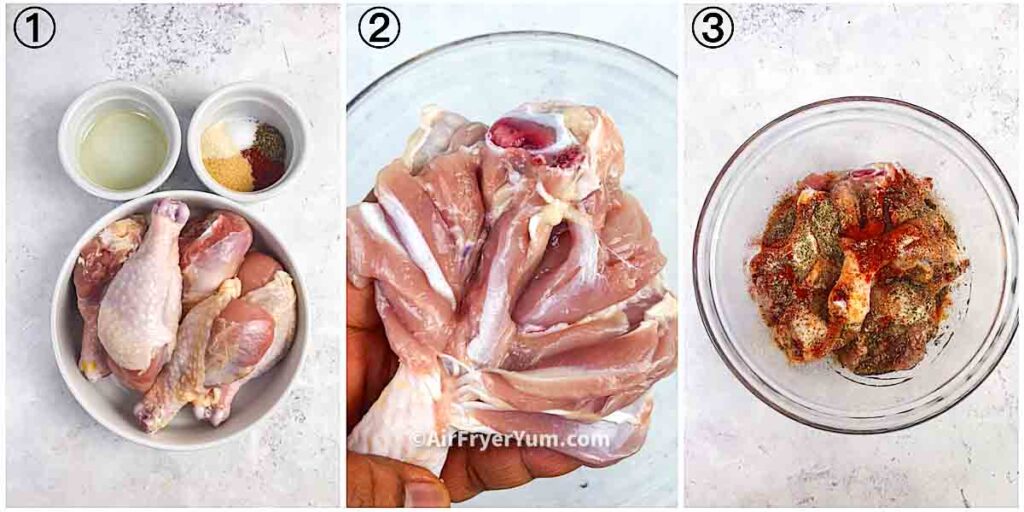 Mix seasoning in till we'll coated. Place butterfly chicken into the air fryer basket and air fry at 400°F / 200°C for 25 minutes or until internal temperature reaches 165°F / 74°C. Remember to flip half way through cooking time. If the drumsticks are small, start checking at 20 mins.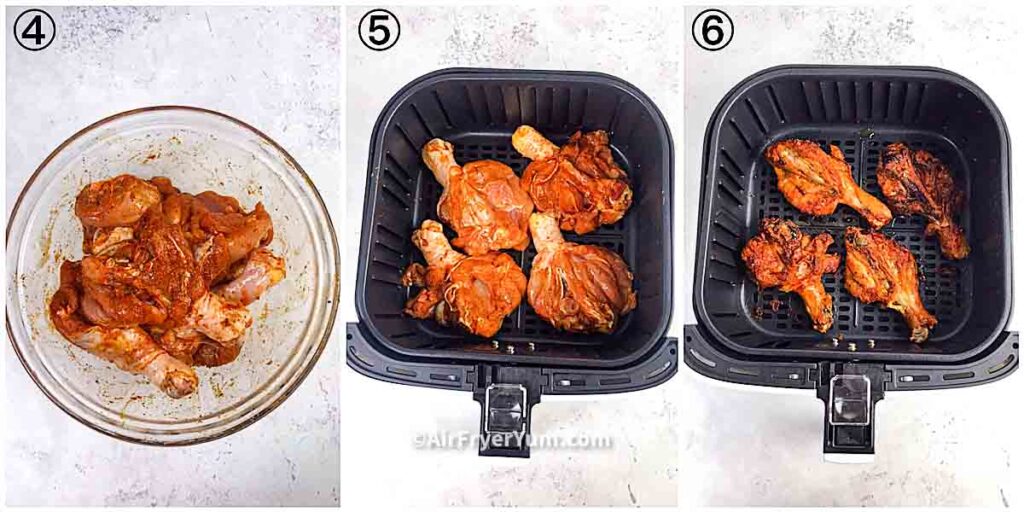 How to serve Air fried Butterflied Chicken legs
There are so many ways to serve air-fried butterflied chicken drumsticks! These can be served as a cheaper alternative to wings for appetizers.
You can also serve it on a plate with any side dish of vegetables, baby potatoes, home fries or top the chicken with BBQ sauce, Teriyaki sauce, hot sauce, or any dipping sauce that you please.
Sometimes, we're all so hungry and happy to eat this recipe that we just grab and enjoy it without even worrying about adding anything else.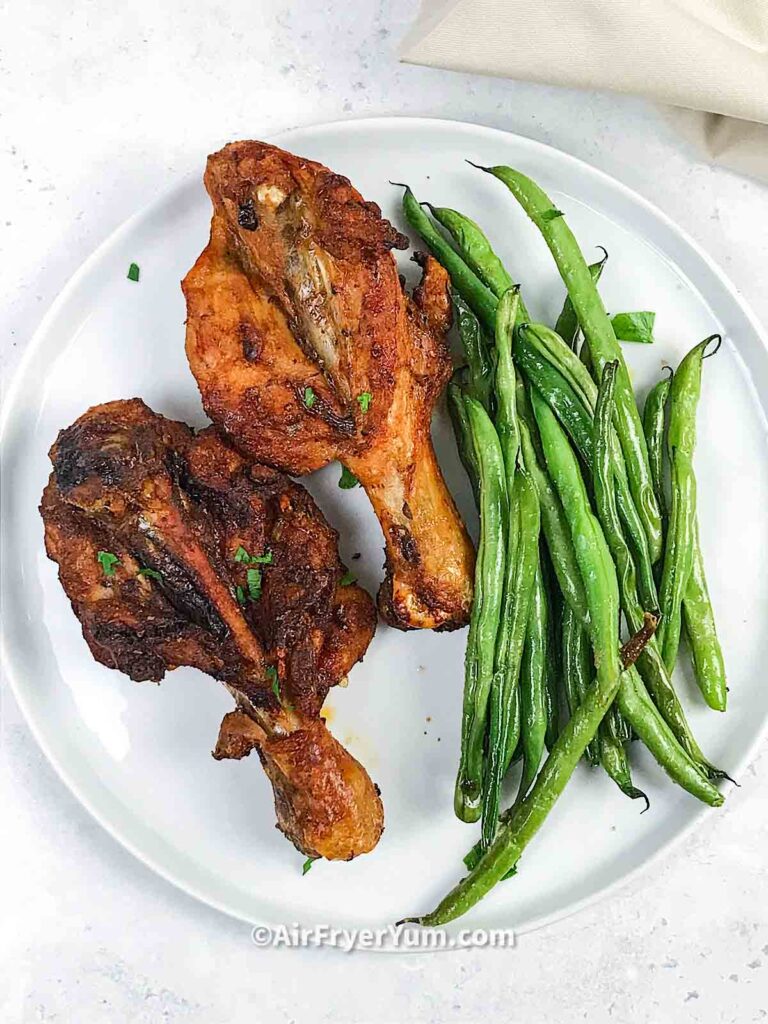 How to store and reheat
Storing leftover chicken drumsticks is a breeze. Be sure to let the chicken cool down all the way, then add the leftovers to an airtight container. Keep the container stored in the fridge for up to 3 days.
To reheat the chicken, you can add it back to the air fryer to get it crispy or pop it in the microwave or the oven as well. The air fryer is the cooking method that you'll want to do if you do want to crisp up the chicken skin again.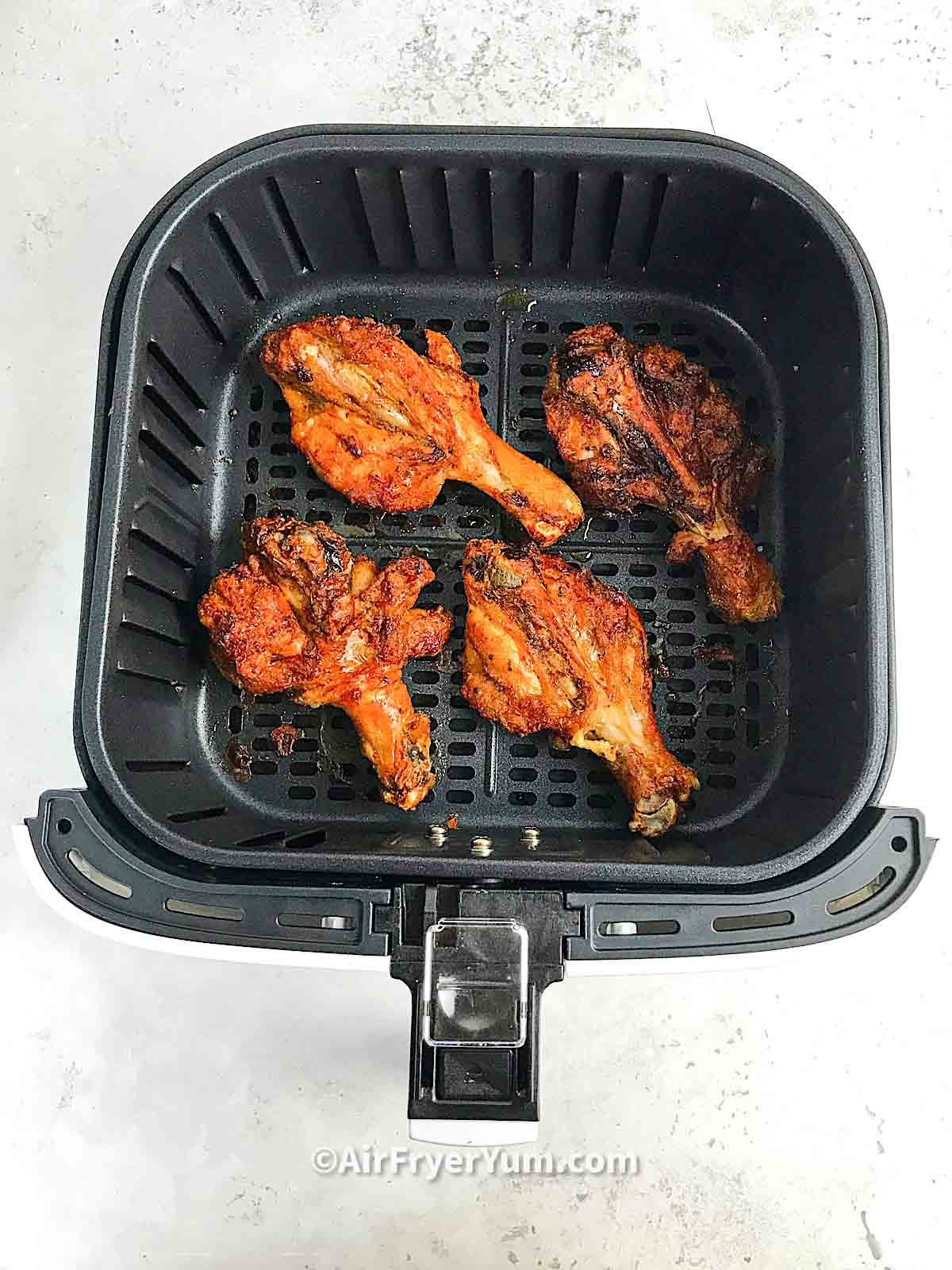 Can you cook frozen chicken drumsticks in air fryer?
Yes You can! Chicken drumsticks can be cooked from or fresh in the air fryer. For obvious reasons, frozen chicken drumsticks have to adjust the cooking time if you're cooking frozen chicken in the air fryer, as it will take a tad bit longer to cook all the way.
If you are thinking of cooking frozen butterflied chicken drumsticks, note that you cannot split a frozen chicken drumstick. You have two options,
Let the chicken legs thaw before splitting, then season and cook. Or
Split the chicken drumsticks and possibly season before freezing so that when you are ready, you can cook
Air frying Tips
Use a chopping board and a sharp knife when splitting the drumsticks.
Make sure that you're not overcrowding the air fryer basket. The air needs to be able to circulate to cook the chicken completely and evenly. If you overcrowd, it will affect the texture of the chicken.
Remember to flip half way through cooking time.
Smaller drumsticks will cook faster than really big ones.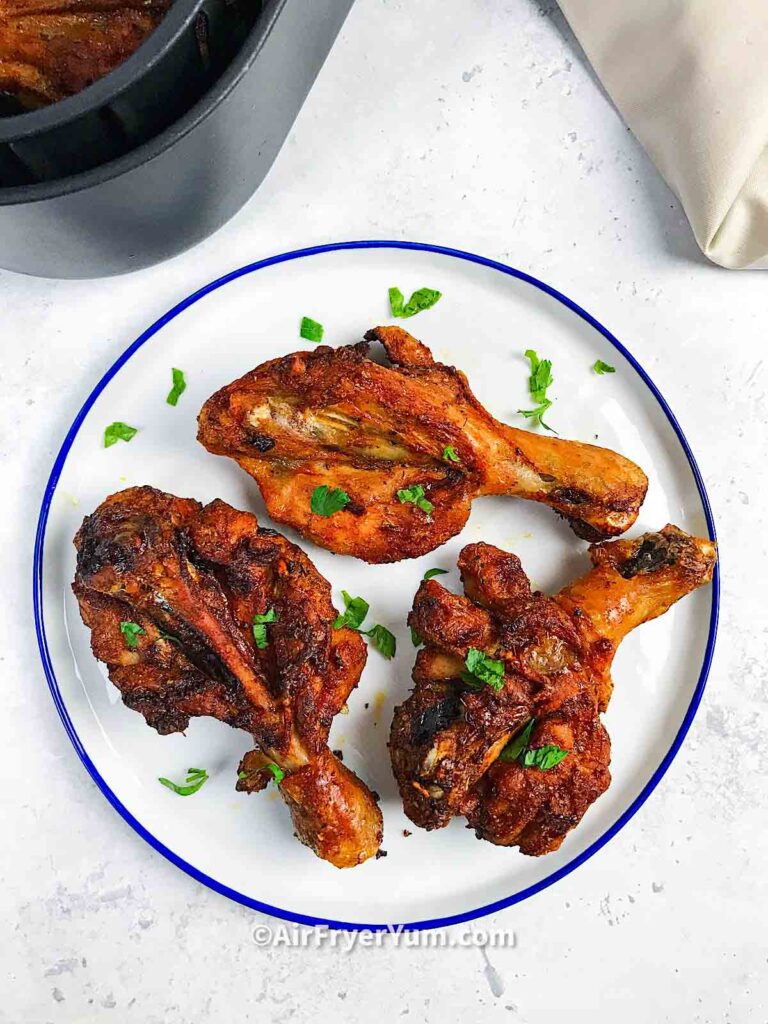 FAQs
What are butterfly drumsticks or butterflied chicken legs?
Butterflied drumsticks are simply split drumsticks that look like they have wings. It's a more affordable way to enjoy chicken wings.
How do you split a chicken drumstick?
The easiest way to butterfly chicken is to have the meatiest side of the chicken drumstick facing up. You'll then take a knife and cut it down along the bone. Be careful and don't cut too deep. Cut along the side as well, and then open up the drums. The drum should still be fully connected, just opened up to cook easier.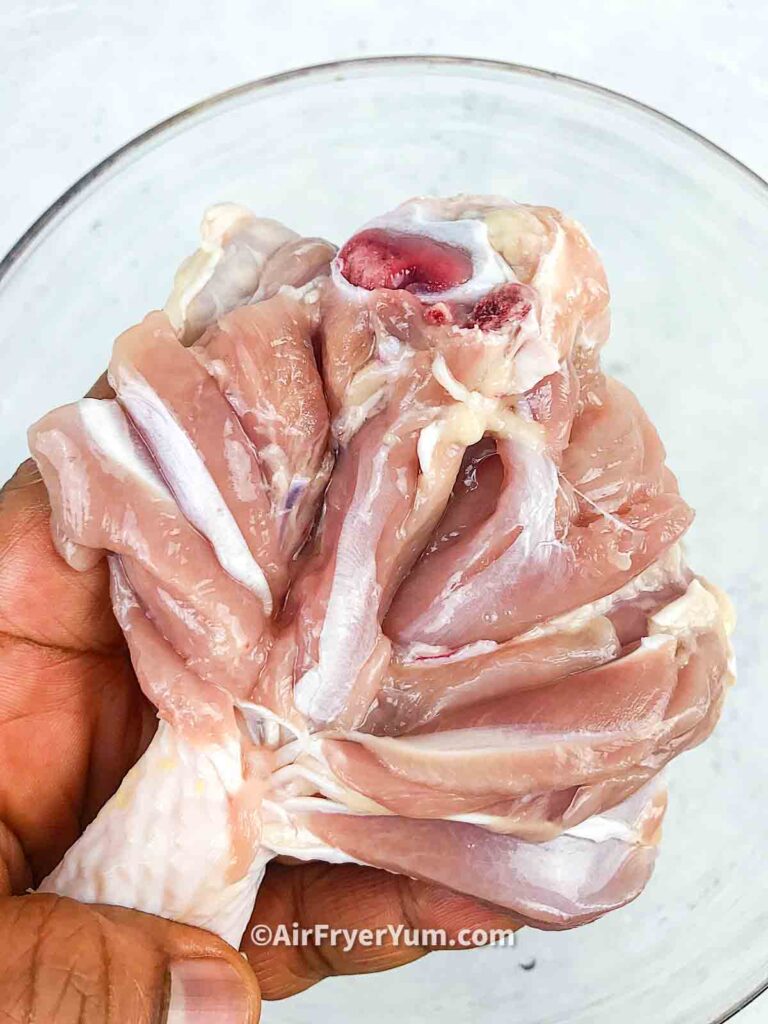 Can you stack chicken legs in an air fryer?
You can but you shouldn't Air fryers work by circulation heat rapidly. Therefore one of the rules when using an air fryer is not to overcrowd the basket. You shouldn't stack the split drumsticks because they need space in the air fryer basket to cook evenly.
How do I know the drumsticks are cooked through?
Use a meat thermometer to check the internal temperature of the chicken. Make sure to put it into the thickest part of the chicken and away from the bone. For the chicken to be safe to eat, it needs to be at least 165°F / 74°C.
If you try this recipe, show it off on Instagram! Be sure to Follow and Tag @Airfryeryumblog on Instagram and use the hashtag #airfryeryumblog so we can see your recreations!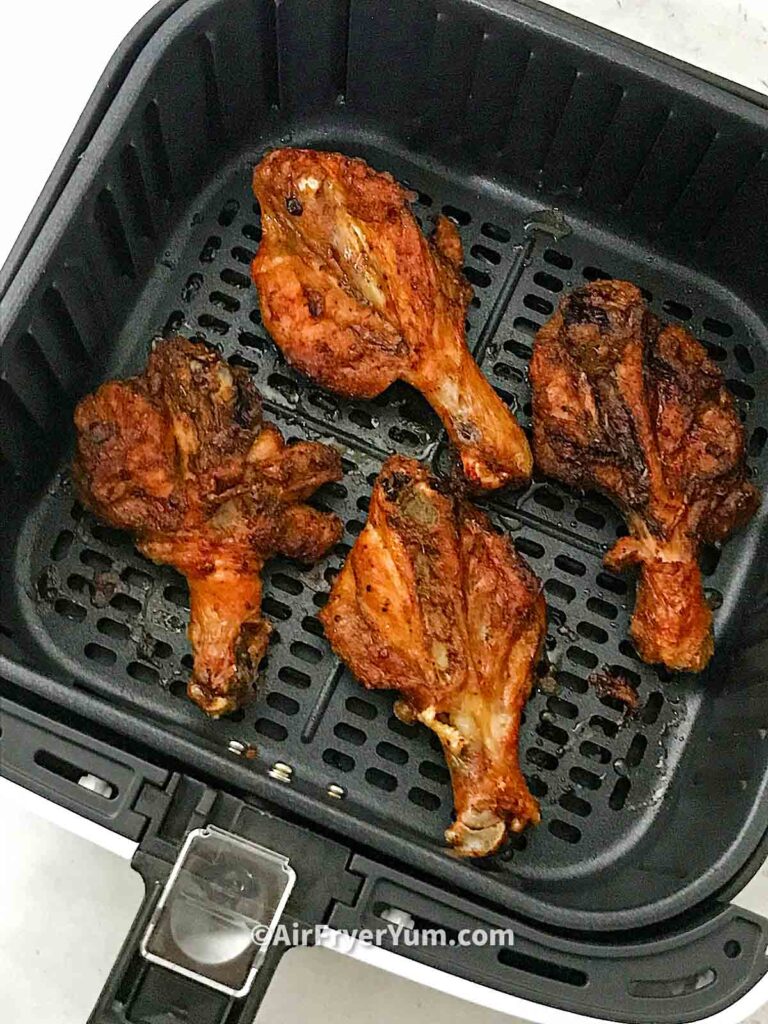 Did you find this recipe helpful? Leave me a comment about it or any recipe idea you would love Air fryer 'yummed' and don't forget to share with family and friends.
Happy Air frying!
Love it? Pin it! Then follow Air Fryer Yum on Pinterest for more deliciousness!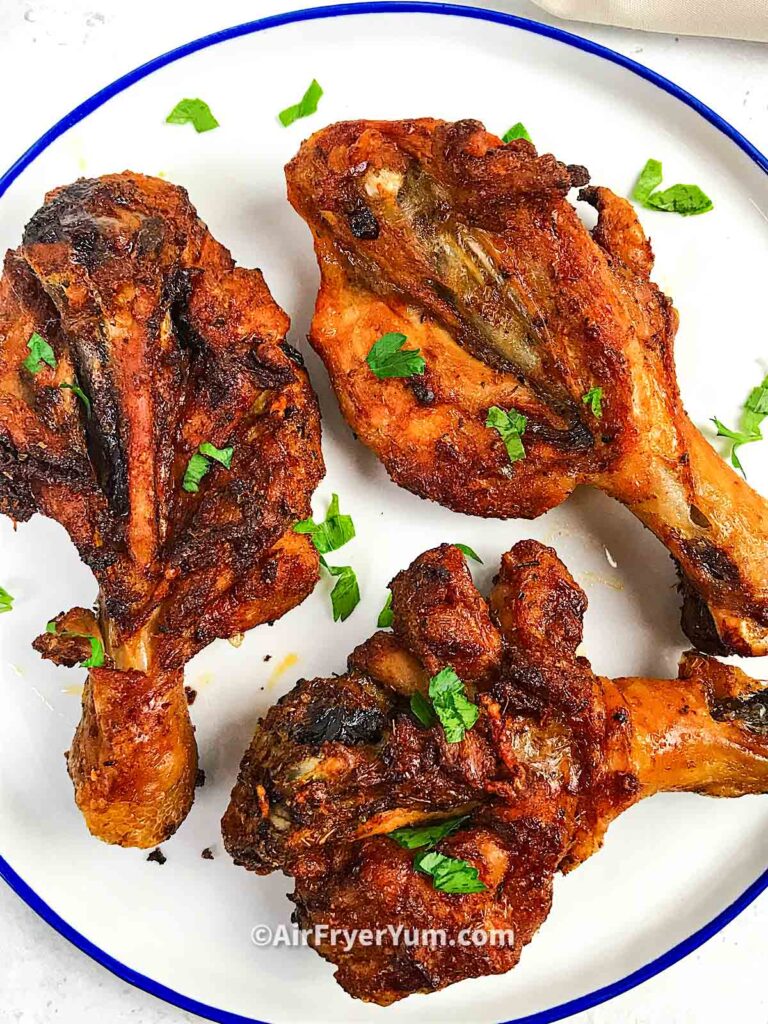 Looking for more air fryer recipes? Sign up for our yummy newsletter and Follow along on Facebook, Instagram, Pinterest and Tiktok for updates. Remember to Subscribe to my YouTube Channel for weekly videos.
Loving your air fryer much? Join other Air Fryer Buddies in our exclusive free Easy Air Fryer Recipes Group on Facebook!
New to the world of Air frying? We've got you covered. Check out our helpful >>> Air fryer Resources!
Shop all air fryers and air fryer accessories at our Amazon store.
Air Fryer Yum's Pro Tip! Air fryer temperatures may vary depending on size, make and model. When making a recipe for the first time, start with less time, check for doneness then add more time as needed.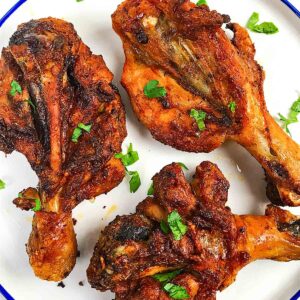 Air fryer butterfly chicken drumsticks (butterflied chicken legs)
Looking for a fast and straightforward way to make butterflied chicken legs in the air fryer? These Air Fryer Butterfly Drumsticks super easy to make, low carb, quick, delicious, and full of flavor!
Ingredients
6

chicken drumsticks

1

tablespoon

oil

1

teaspoon

paprika

1

teaspoon

Italian seasoning

1

teaspoon

garlic powder

½

teaspoon

onion powder

½

teaspoon

salt

¼

teaspoon

cayenne pepper
Instructions
Prepare chicken and split chicken
Pat chicken dry. Place on a chopping board and cut on one side starting from the larger side to the thinner end. Open it up so it spreads like a wing.
Season the chicken
Mix seasoning and salt together.

Add oil to butterflied chicken legs then add chicken seasoning blend. Mix till all the chicken is well coated in seasoning.
Air fry
Transfer seasoned chicken to air fryer basket. Cook at 400°F / 200°C for 25 mins flipping half way through cooking time. Smaller drumsticks will cook in less time. The internal temperature should be at least 165°F / 74°C to be considered fully cooked and safe to eat.

Enjoy as is or serve with your favorite side dish. See blog post for suggestions.
Oven instructions
Preheat oven to 400°F / 200°C / Gas Mark 6

Place seasoned chicken on a baking sheet. Bake in preheated oven for 35 to 40 mins or until cooked through and internal temperature reads 165°F / 74°C. Remember to flip chicken half way through cooking time.
Nutrition
Calories:
289
kcal
Carbohydrates:
2
g
Protein:
27
g
Fat:
19
g
Saturated Fat:
4
g
Polyunsaturated Fat:
4
g
Monounsaturated Fat:
9
g
Trans Fat:
1
g
Cholesterol:
139
mg
Sodium:
546
mg
Potassium:
368
mg
Fiber:
1
g
Sugar:
1
g
Vitamin A:
202
IU
Vitamin C:
2
mg
Calcium:
28
mg
Iron:
1
mg
Nutrition Disclaimer
Nutritional information is an estimate and may change based on products used. Please read our Nutrition disclaimer page.
Subscribe to my YouTube Channel
Subscribe to Air Fryer Yum on YouTube for more detailed videos! Remember to click the bell icon to get notified when I upload new videos.
Save this Recipe for later!
Follow @AirFryerYum on Pinterest!
Did you make this air fryer butterfly drumsticks recipe? Awesome! Please rate it by clicking the stars ⭐️⭐️⭐️⭐️⭐️ when you leave a comment below. If you loved it please share the link to this recipe with family and friends and in you favorite Facebook group.