Looking for a super easy heathy air fryer fish recipe besides Salmon? This Air fryer Trout recipe is one you need to try. It's quick, flavorful and requires just 3 ingredients.
Making trout in the air fryer with no breading will ensure you enjoy a low calorie meal without sacrificing flavor. Whether you're cooking steelhead trout, rainbow trout fillets or the whole fish this easy recipe would work for you.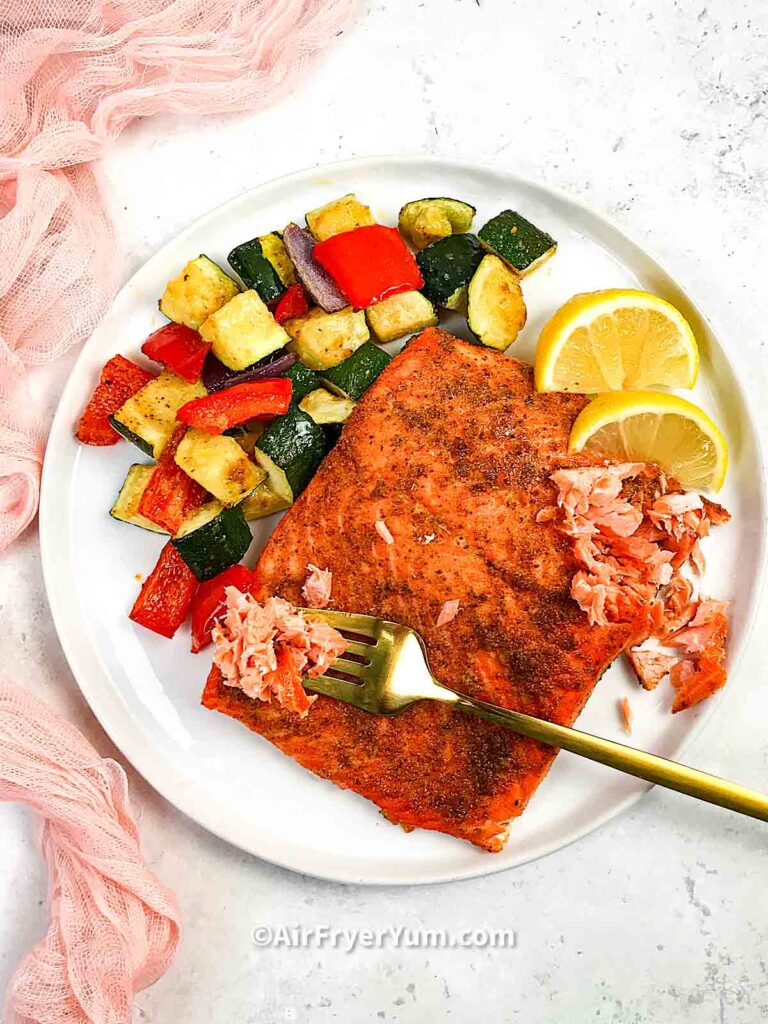 Air fryer trout Recipe
If you love air fryer salmon you'll definitely love this air fryer trout. Both are healthy, similar tasting and turn out delicious in the air fryer.
Cooking trout in my air fryer in one of my best air fryer decisions so far. This recipe is hassle free, packed full of flavor and almost hands free and totally beginner friendly.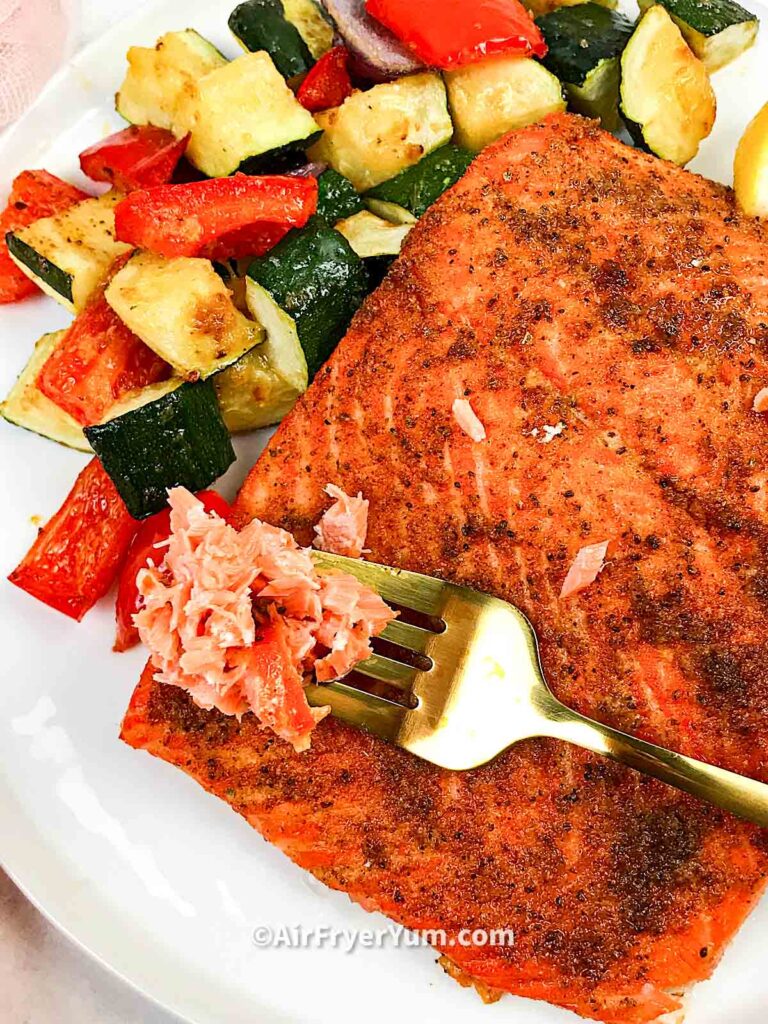 Cooking air fryer trout with skin in the air fryer
Is super easy, quick and delicious.This makes it a great option for busy weeknights when you want to prepare a healthy and delicious meal without spending too much time in the kitchen.
Yields consistent results.
Makes for a healthy and flavorful low carb meal.
Ensures you get the effect of oven baked trout without turning on your oven and heating up your house.
Helps provide your family with a nutritious and healthy fish meal.
Related: Air fryer haddock (no breading), Air fryer Everything Bagel Salmon
Ingredients (with Substitutions)
Trout (I used Steelhead trout, you can also use rainbow trout fillets, brook trout or any type of trout)
Old bay seasoning: You can use your favorite store-bought or homemade fish seasoning. Cajun or Creole seasoning will also taste amazing with fish.
Garlic powder: Sub with onion powder.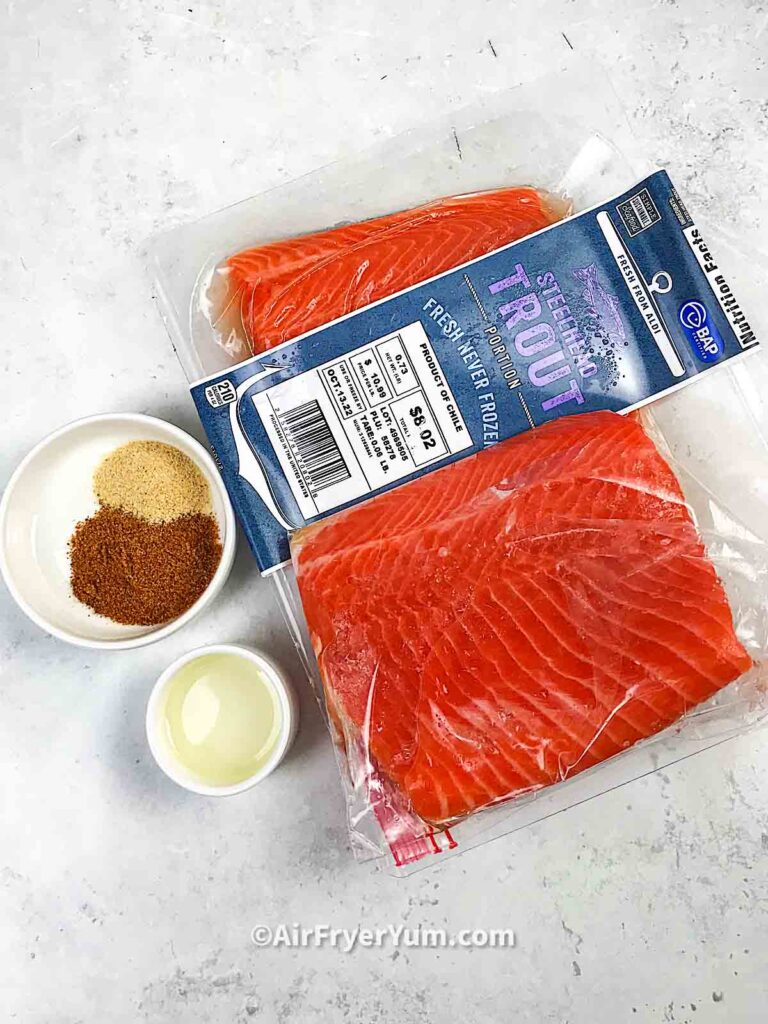 Tools used for this recipe
The links below may contain affiliate links. As an Amazon associate and affiliate to other merchants, this website may earn from qualifying purchases. Please read full disclosure here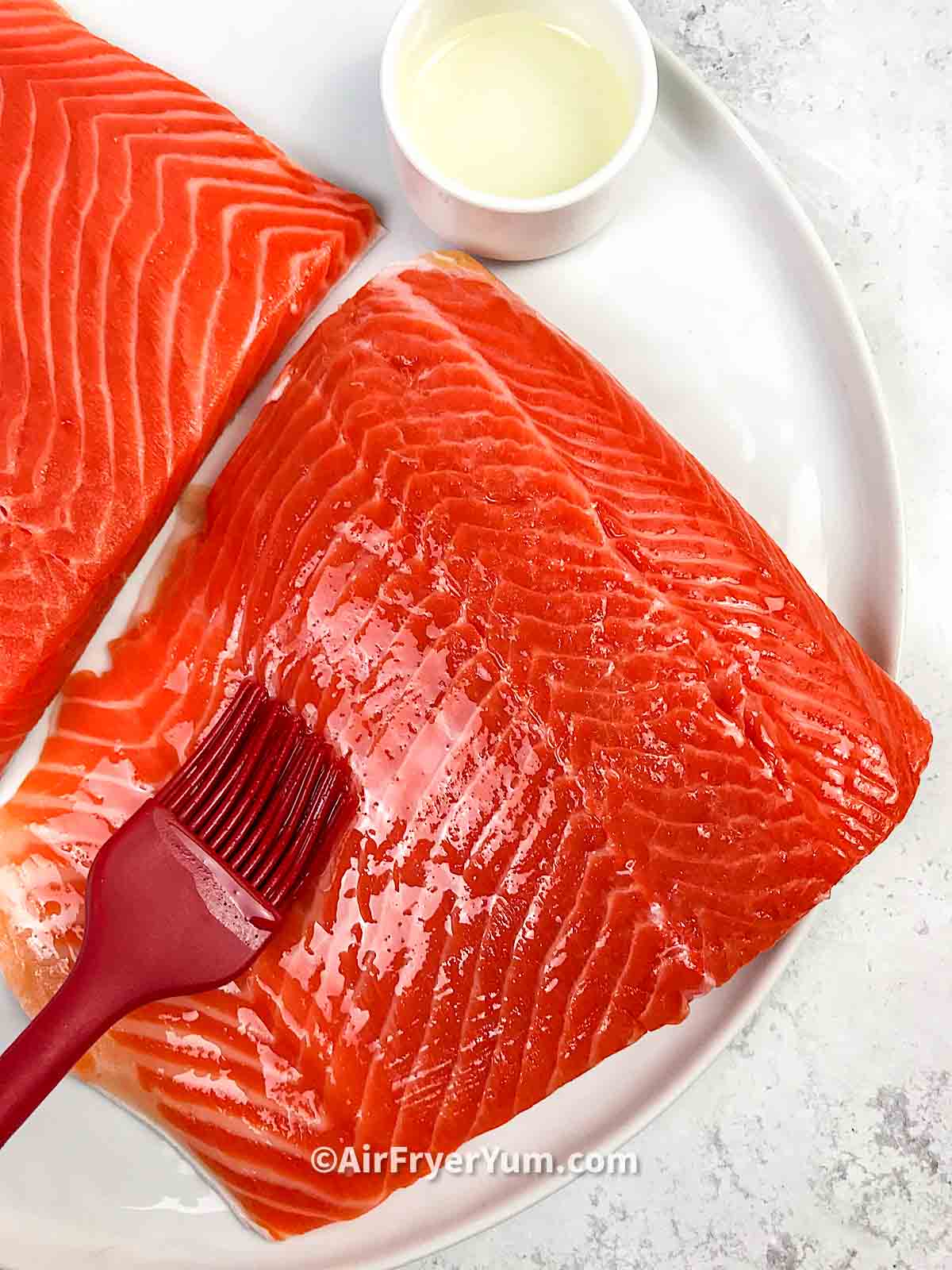 How long to cook Trout in air fryer
The trouts got ready in 12 mins at 400°F / 200°C in my non preheated Cosori air fryer. However certain factors may affect the length of time it takes to cook foods in the air fryer. Find some below.
Preheating: If you preheat, expect these to cook a couple of minutes faster than it did in this post since I didn't preheat to cook mine.
Temperature: I cooked this air fryer trouts at 400°F / 200°C. If you cook at a lower temp, like 350°F / 180°C you will likely need to add more time.
Air fryer brand: Some brands like Ninja tend to cook hotter than some other air fryers. Keep an eye on it to ensure the fish doesn't overcook.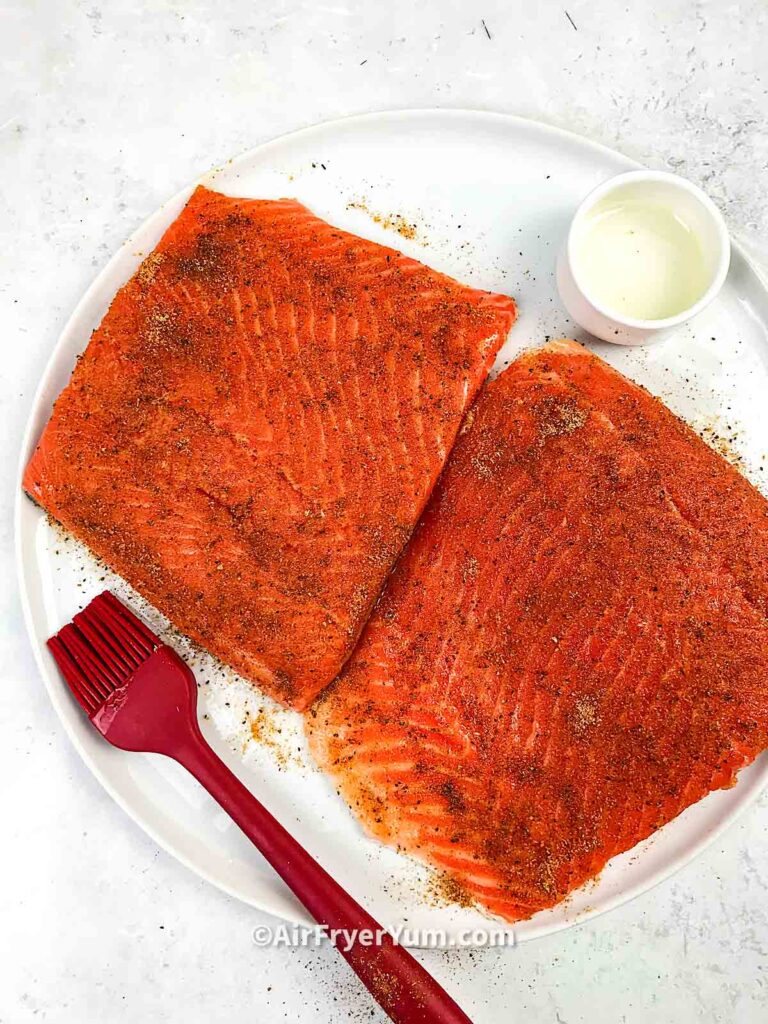 How to make Trout in the air fryer
This is an overview of the recipe with step by step photos. Scroll down to the end of this post for a printable recipe card with the amount of ingredients and full recipe instructions.
Cooking trouts in the air fryer requires just 2 main simple steps! Season and air fry.
First rinse the fish, pat it dry. Brush some oil on the skinless sides of the trouts. Sprinkle the seasoning generously on it.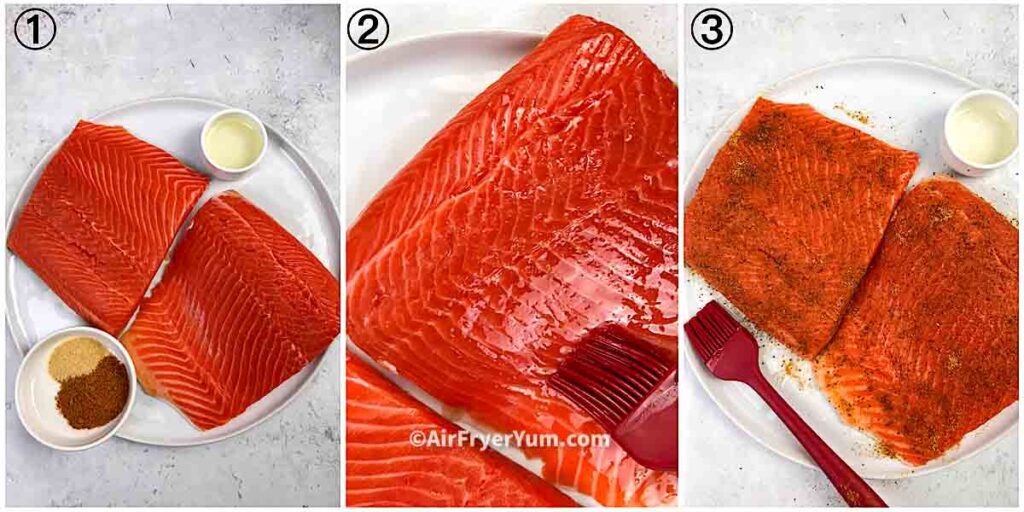 Gently Rub it in with your fingers. Transfer to the air fryer basket skin side down. Air fry at 400°F / 200°C for 10 to 12 minutes or until internal temperature is 145°F / 63°C or the fish is firm and flakes easily with a fork.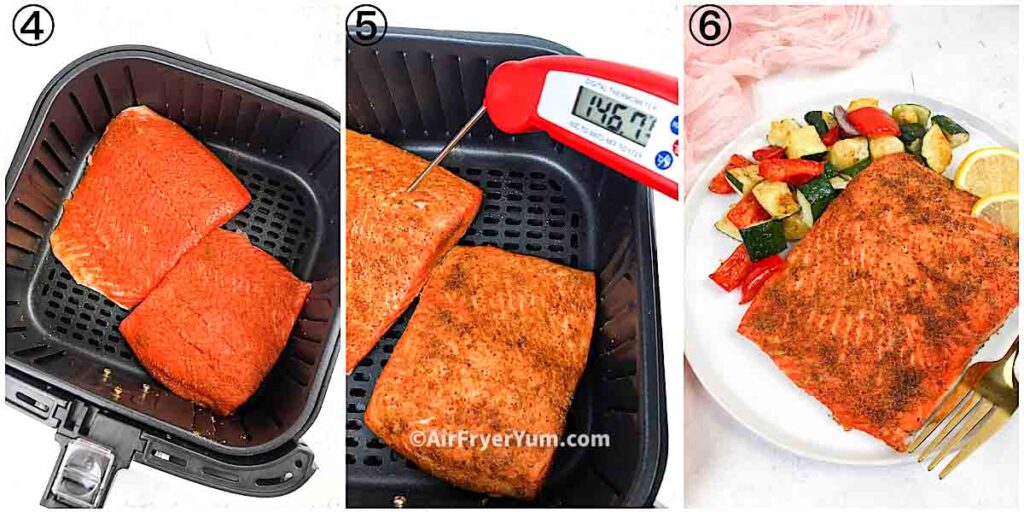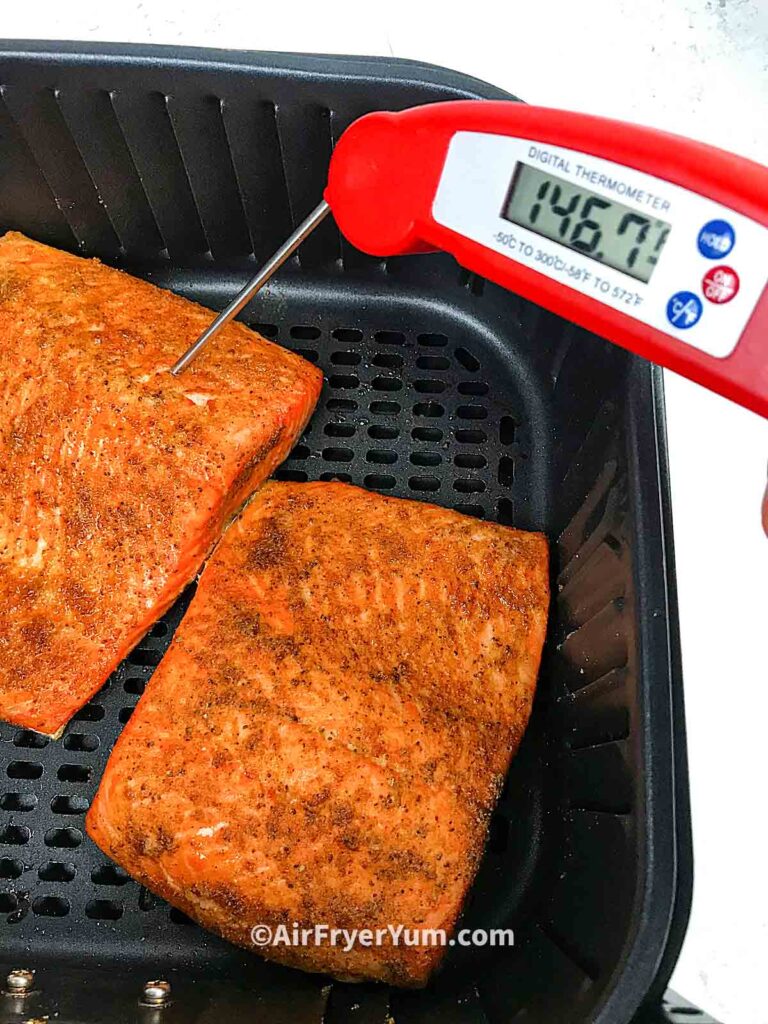 Can I cook frozen trout in air fryer?
Yes you can cook frozen trout fillets in the air fryer. Like this frozen salmon recipe you don't even need to thaw. Simply season and air fry.
If it's frozen straight out of the freezer you can air fry at 400°F (200°C) for 2 to 3 mins to defrost slightly then season as directed in this recipe. Continue cooking for an another 10 to 11 mins. Smaller pieces would cook faster so pay attention to the fish as it cooks.
Alternatively, run the frozen trout under tap water to remove any ice on the surface then pat dry, season and air fry for 12 to 14 mins. Start checking at the 12 mins mark for doneness and add more time as needed.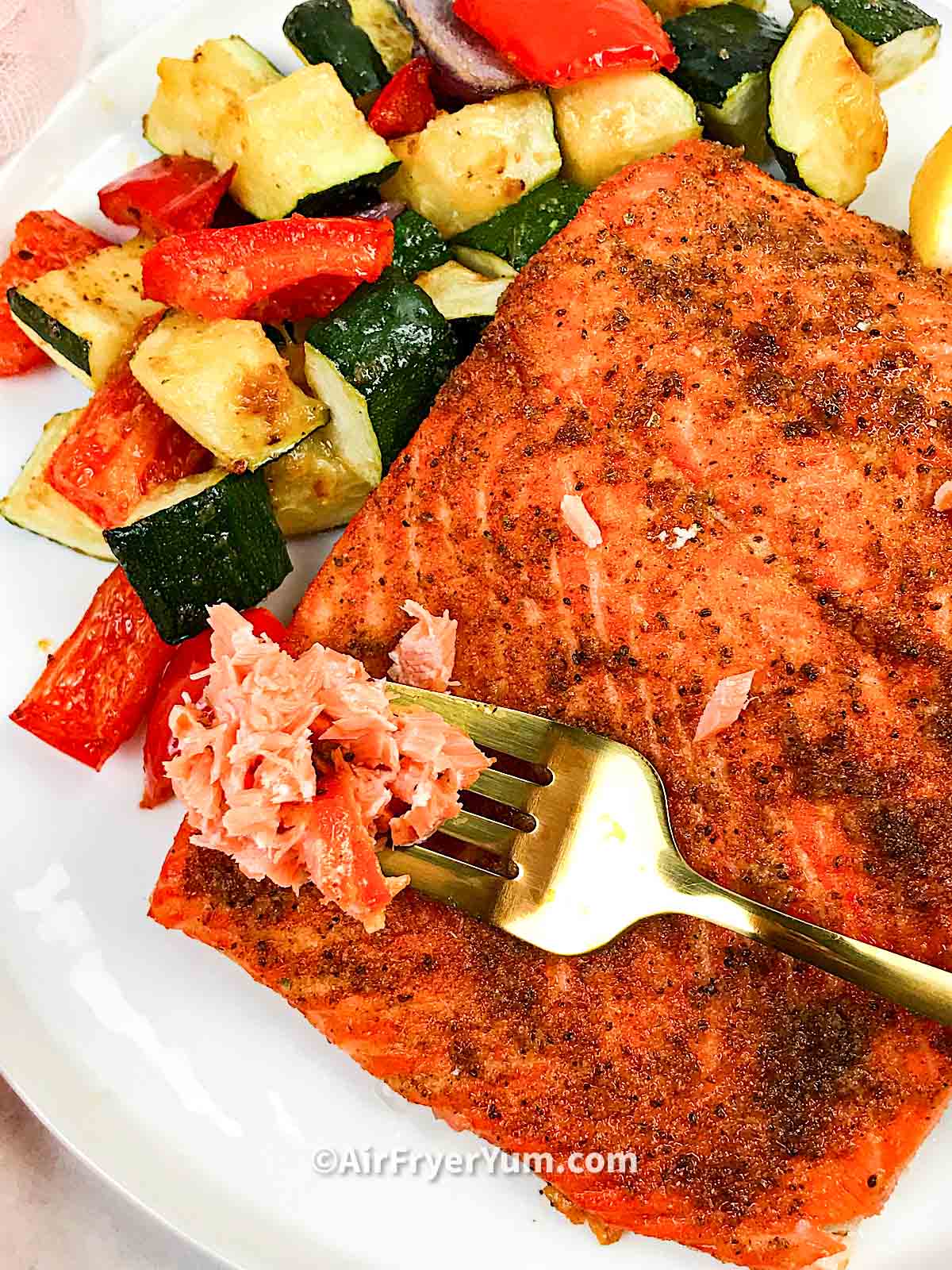 How to store and reheat
Air fryer trouts keep well in the refrigerator for up to 3 days. To make ahead or store leftovers, all you need to do is to let the fish cool down completely then transfer to a clean and dry meal prep bowl and pop into the refrigerator.
Air fried trouts can be frozen too. Transfer cooked and cooled fish into air tight containers and freeze for up to a month.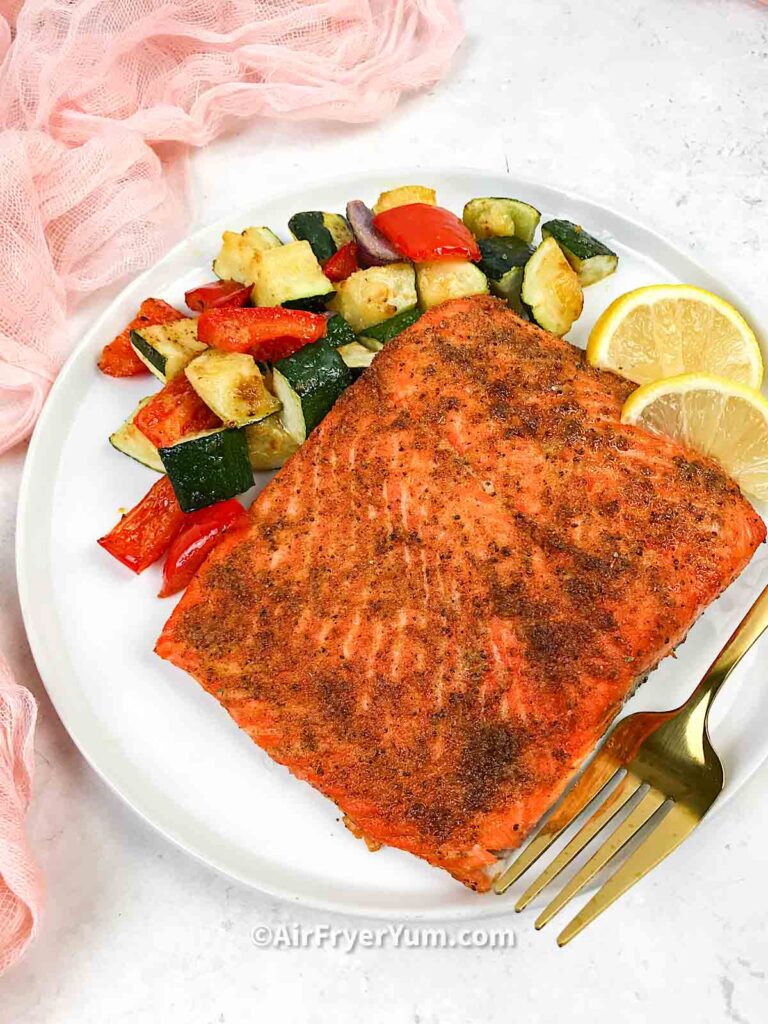 Air frying Tips
No need to preheat the air fryer. If you preheat expect the fish to cook faster than stated in this recipe. You would need to adjust the time accordingly. In this case I recommend you start checking for doneness at 8 mins.
If cooking trout fillets with skin, place skin side down in the air fryer basket. No need to flip.
Start checking for doneness at the lower time limit to ensure that fish doesn't get overcooked. The internal temp should be at least 145°F (63°C)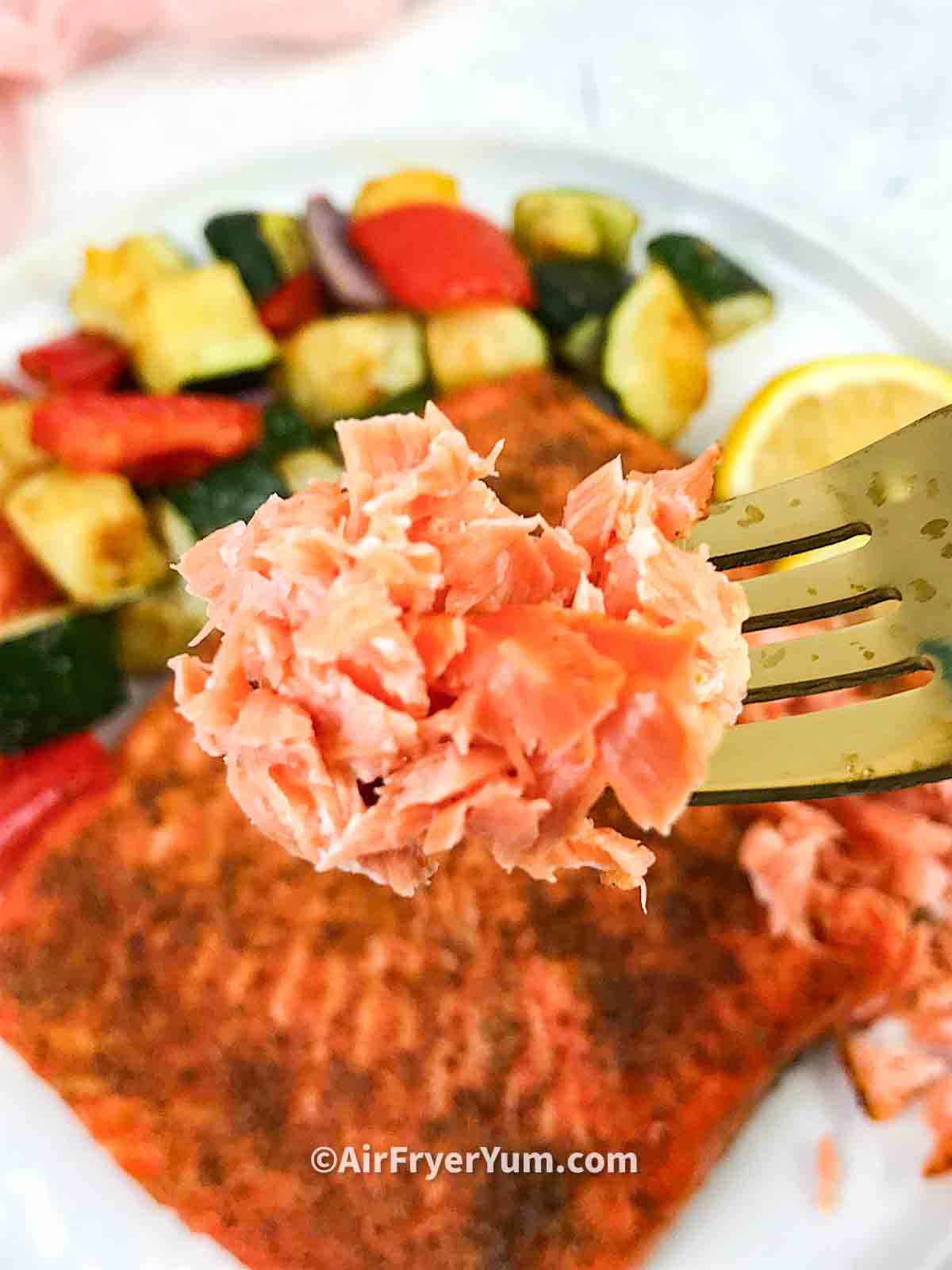 FAQs
Here you'll find answers to common questions about this recipe. If your question isn't answered, please leave us a comment below and we'll gladly answer them.
What is the internal temp for fish?
Wondering what temperature fish should be cooked to for safe consumption? The internal temp as recommended by the FDA is 145°F / 63°C. This is what is referred to as the fish internal temp.
How to know when trout is cooked
Trout is done when the internal temp reaches 145°F / 63°C. If you don't have a digital meat thermometer (highly recommended) you can use other factors to determine if the fish is done such as color and texture.
Fully cooked trout is firm to touch and flakes easily when poked with a fork. The color will be pale pink as against the deep pink it had when it was fresh. However farm raised trouts will be much paler that wild caught trouts.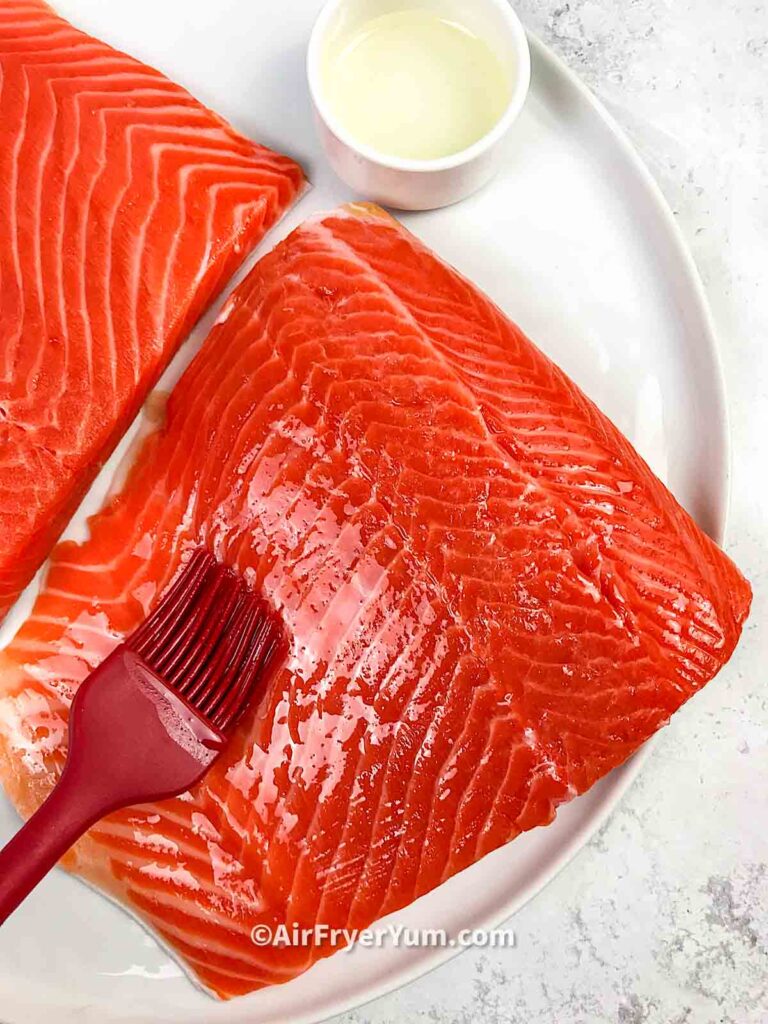 Trout vs Salmon what's the difference?
Trout and and Salmon are similar in color (Deep pinkish-orangish) and are both mild tasting fish, however there are a few key differences to note about these two healthy fish.
Trout is usually found in fresh water while salmon though born in fresh water usually migrate to the ocean.
Trouts are a few inches smaller than Salmon and also have a lot of spout on their skin. Salmon hardly have spots on their skin. Also Salmon has a higher fat content than Trout.
If you try this recipe, show it off on Instagram! Be sure to Follow and Tag @Airfryeryumblog on Instagram and use the hashtag #airfryeryumblog so we can see your recreations!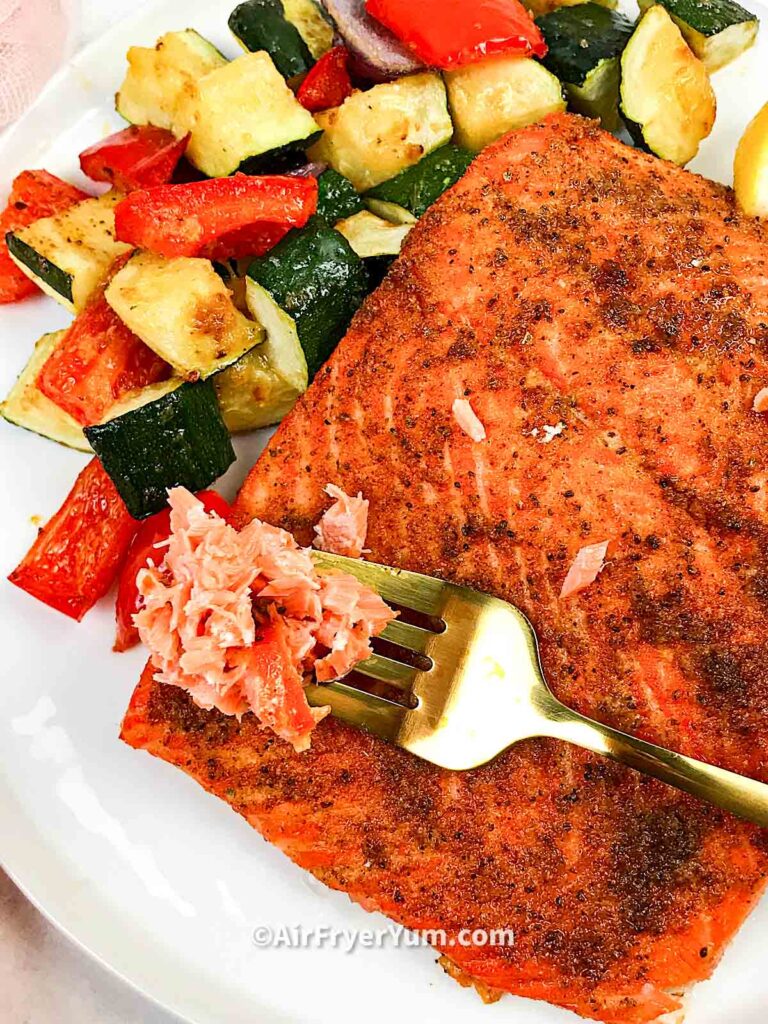 Did you find this recipe helpful? Leave me a comment about it or any recipe idea you would love Air fryer 'yummed' and don't forget to share with family and friends.
Happy Air frying!
Love it? Pin it! Then follow Air Fryer Yum on Pinterest for more deliciousness!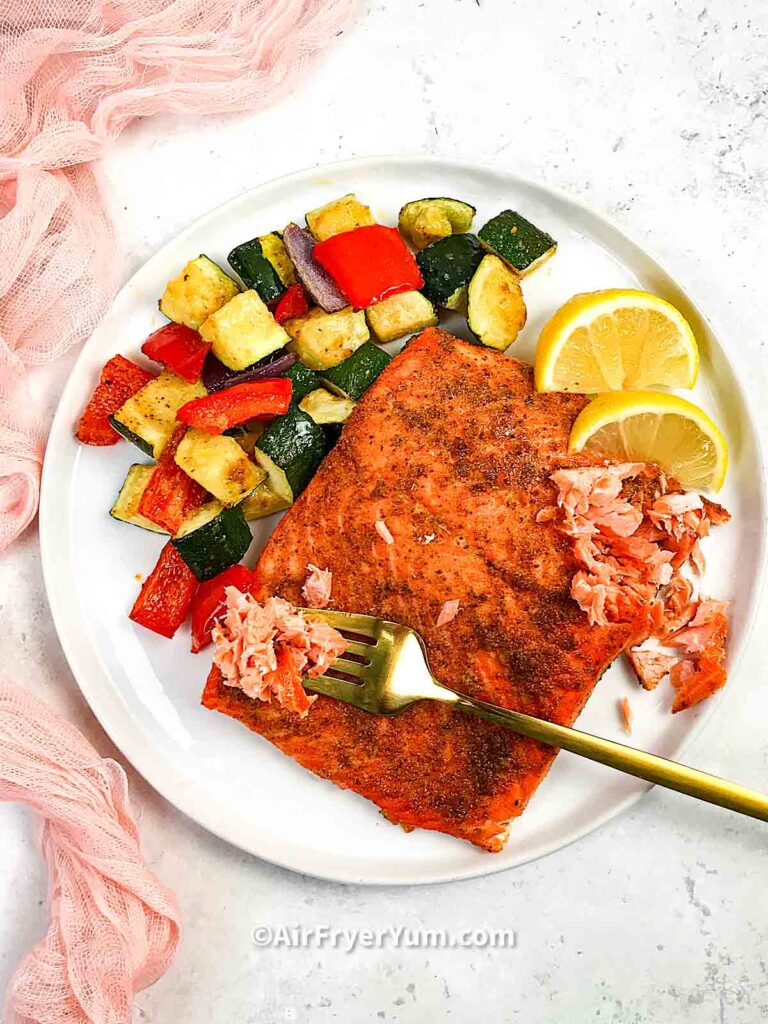 Looking for more air fryer recipes? Sign up for our yummy newsletter and Follow along on Facebook, Instagram, Pinterest and Tiktok for updates. Remember to Subscribe to my YouTube Channel for weekly videos.
Loving your air fryer much? Join other Air Fryer Buddies in our exclusive free Easy Air Fryer Recipes Group on Facebook!
New to the world of Air frying? We've got you covered. Check out our helpful >>> Air fryer Resources!
Shop all air fryers and air fryer accessories at our Amazon store.
Air Fryer Yum's Pro Tip! Air fryer temperatures may vary depending on size, make and model. When making a recipe for the first time, start with less time, check for doneness then add more time as needed.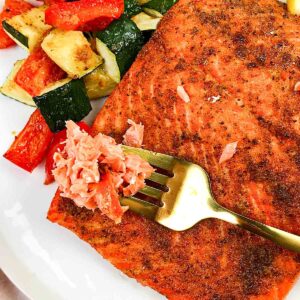 Air Fryer trout (no breading)
Looking for a super easy heathy air fryer fish recipe besides Salmon? This Air fryer Trout recipe is one you need to try. It's quick avd easy, flavorful and requires just 3 ingredients.
Ingredients
2

trout fillets

1

Tablespoon

oil

½

Tablespoons

Old bay seasoning

½

Teaspoon

garlic powder
Instructions
Mix the Old bay seasoning with garlic powder till well combined.

Pat trout fillets dry with paper towels. Brush some oil on the skinless surface of the trout fillets. Season generously with the seasoning blend.

Lightly spray air fryer basket with oil if you are not using parchment. Place seasoned fillets in the air fryer basket or tray and air fry at 400°F / 200°C for 10 to 12 mins.

No need to flip to the other side. The trout is done when internal temperature reaches 145°F / 63°C.

Serve with your favorite side dish.
Notes
No need to preheat the air fryer to make everything but the bagel salmon. However if you do preheat or your air fryer preheats automatically, you will need to cook for less time, usually 8 to 10 mins
Use Parchment paper for easy clean up. If using parchment no need to spray the air fryer basket with oil.
Do not use oil from pressurized cans in your air fryer.
Nutrition
Calories:
34
kcal
Carbohydrates:
1
g
Protein:
0.2
g
Fat:
4
g
Saturated Fat:
0.3
g
Polyunsaturated Fat:
1
g
Monounsaturated Fat:
2
g
Trans Fat:
0.01
g
Cholesterol:
0.3
mg
Sodium:
1
mg
Potassium:
10
mg
Fiber:
0.1
g
Sugar:
0.03
g
Vitamin A:
13
IU
Vitamin C:
0.1
mg
Calcium:
6
mg
Iron:
0.2
mg
Nutrition Disclaimer
Nutritional information is an estimate and may change based on products used. Please read our Nutrition disclaimer page.
Subscribe to my YouTube Channel
Subscribe to Air Fryer Yum on YouTube for more detailed videos! Remember to click the bell icon to get notified when I upload new videos.
Save this Recipe for later!
Follow @AirFryerYum on Pinterest!
Did you make this air fryer trout recipe? Awesome! Please rate it by clicking the stars ⭐️⭐️⭐️⭐️⭐️ when you leave a comment below. If you loved it please share the link to this recipe with family and friends and in you favorite Facebook group.