Grab this collection of tasty air fryer game day recipes in preparation for the big day. Since the big game is fast approaching, you are probably in search of easy snacks and appetizers to enjoy with your friends during the super bowl.
Perhaps you are in search of easy air fryer appetizers to impress your family at a party or get together, or you are looking for the best air fryer super bowl recipes. Not to worry, these are easy air fryer recipes that are sure to impress with lots of finger foods included.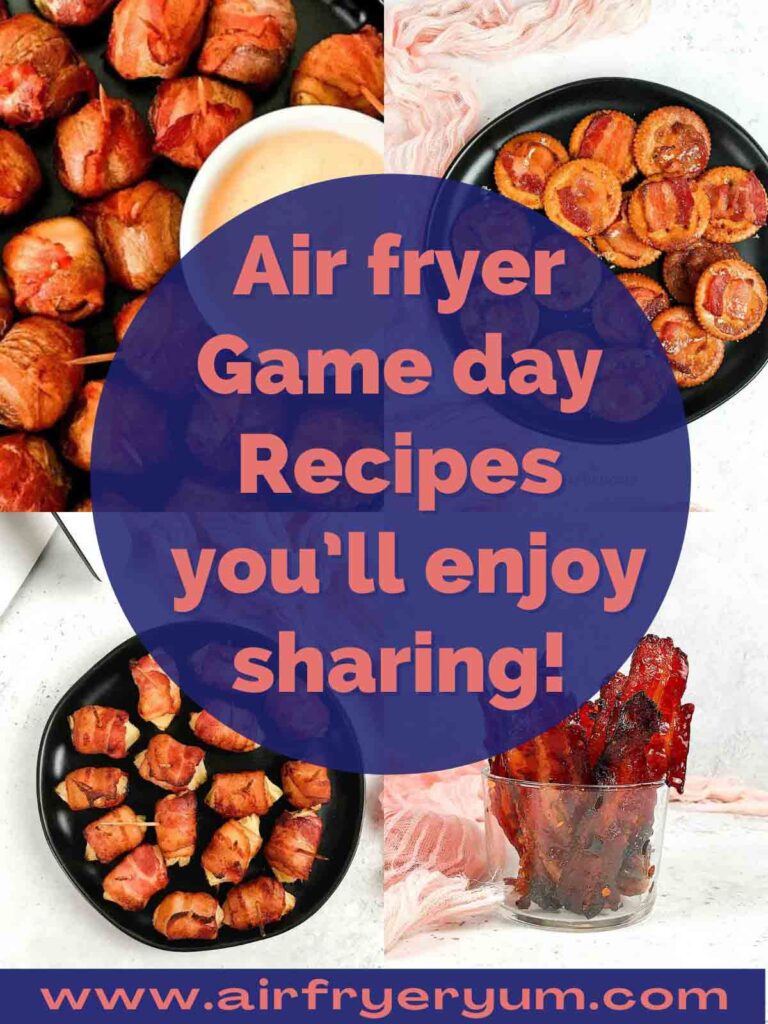 What is Game day?
According to the Oxford's dictionary, game day is the day on which a particular sports event, especially a football game takes place. It could be basket ball or soccer as well.
The super bowl is coming up come February 13 2022 and I know you'd love to have these air fryer game day recipes on time so you can decide the ones you are making for super bowl Sunday food and ensure you get all the ingredients you need ready for your game night parties.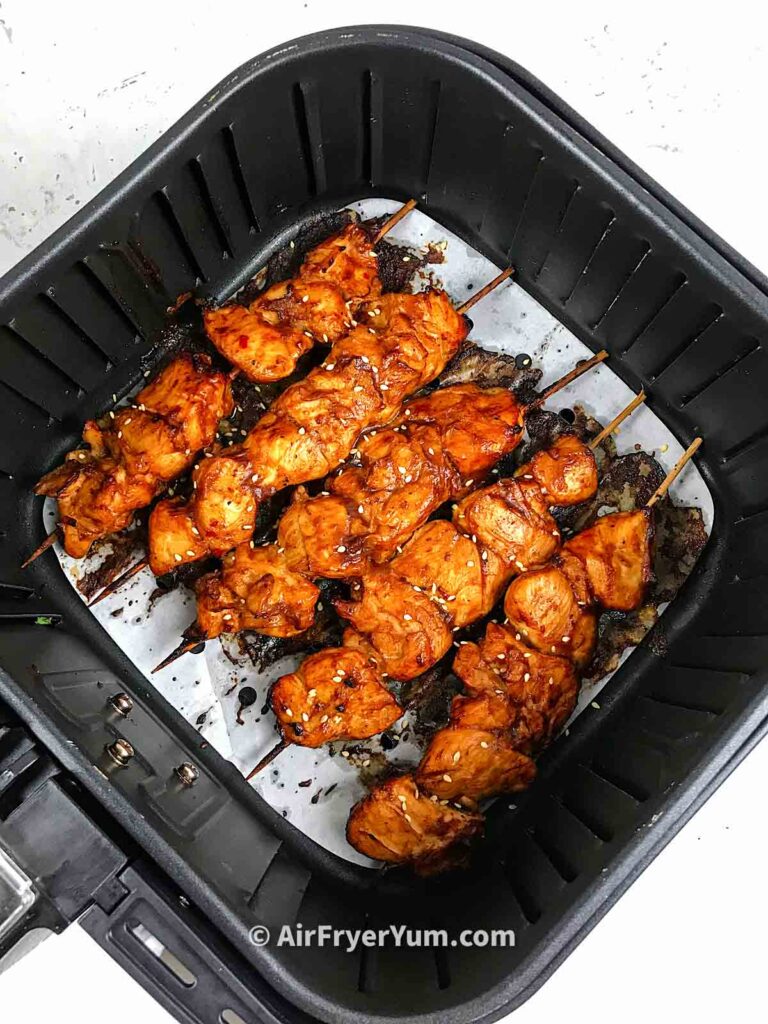 You'll love these recipes because they are
Beginner friendly
Crowd pleasing
Family friendly and
Time saving since they require minimal prep.
Are air fryers healthy?
You must have heard so much about this trending kitchen equipment before buying one or before it got itself into your wish list and now you got one for self by your self Orr from loved ones during the holidays.
Now you are wondering if this is truly healthier way of cooking. Yes you can say that because the air fryer is known to cook fried chicken to perfection with little oil saving you some calories.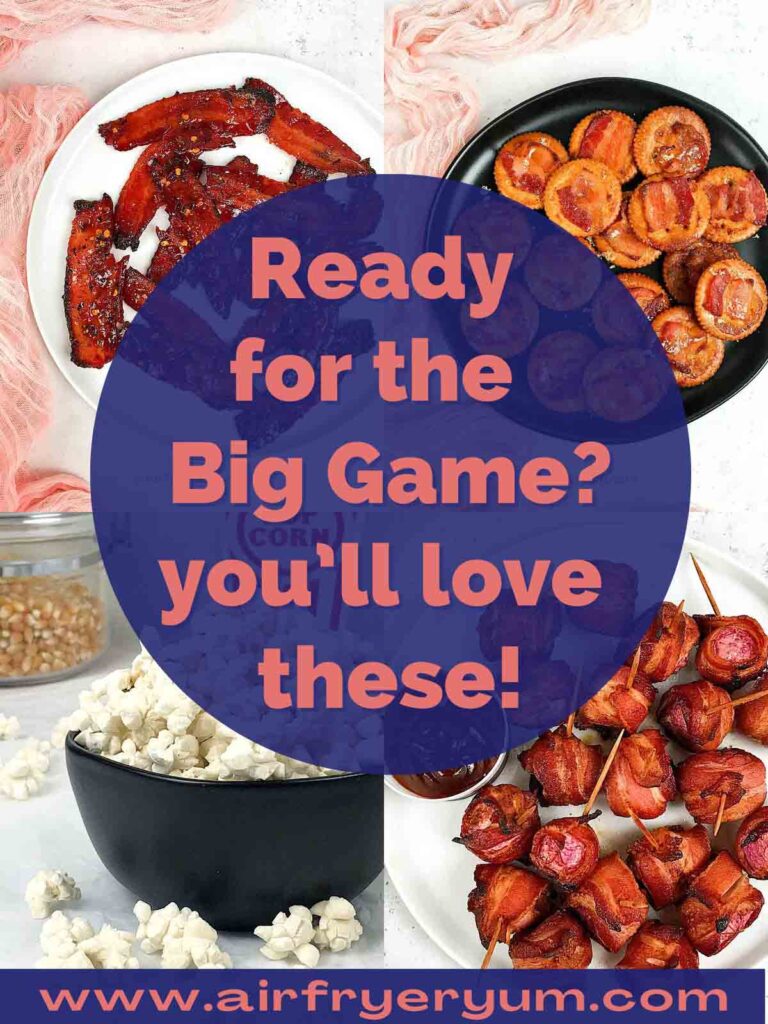 Air fryer Game day recipes
This is a round up of appetizer recipes you can make for Super bowl parties. Only one recipe is featured on the recipe card at the bottom of the page. However when you hit the get recipe button in each individual recipe below, it will take you straight to that recipe you selected.
Related recipes: Air fryer snacks recipes, Air fryer Keto appetizer recipes
Looking for board games to entertain your guests! We love this Tic Tac Toe game.
Reheating leftovers
After super bowl weekend, you are likely to have some leftovers from pizza to chicken wings and everything else in between. Did you know the air fryer is the best for reheating food especially game day leftovers. Check out how to reheat your party leftovers below.
C
Tips
If you have more than one air fryer, now's the time to use it to make a variety of appetizers at the same time.
Plan ahead. Decide how much frozen foods you intend making and which ones you intend to make from scratch.
It's commonly referred to as the Big Game.
If you try any recipe in this round up, show it off on Instagram! Be sure to Follow and Tag @Airfryeryumblog on Instagram and use the hashtag #airfryeryumblog so we can see your recreations!
Did you find this recipe helpful? Leave me a comment about it or any recipe idea you would love Air fryer 'yummed' and don't forget to share with family and friends.
Happy Air frying!
Love it? Pin it! Then follow Air Fryer Yum on Pinterest for more tried & tested air fryer recipes!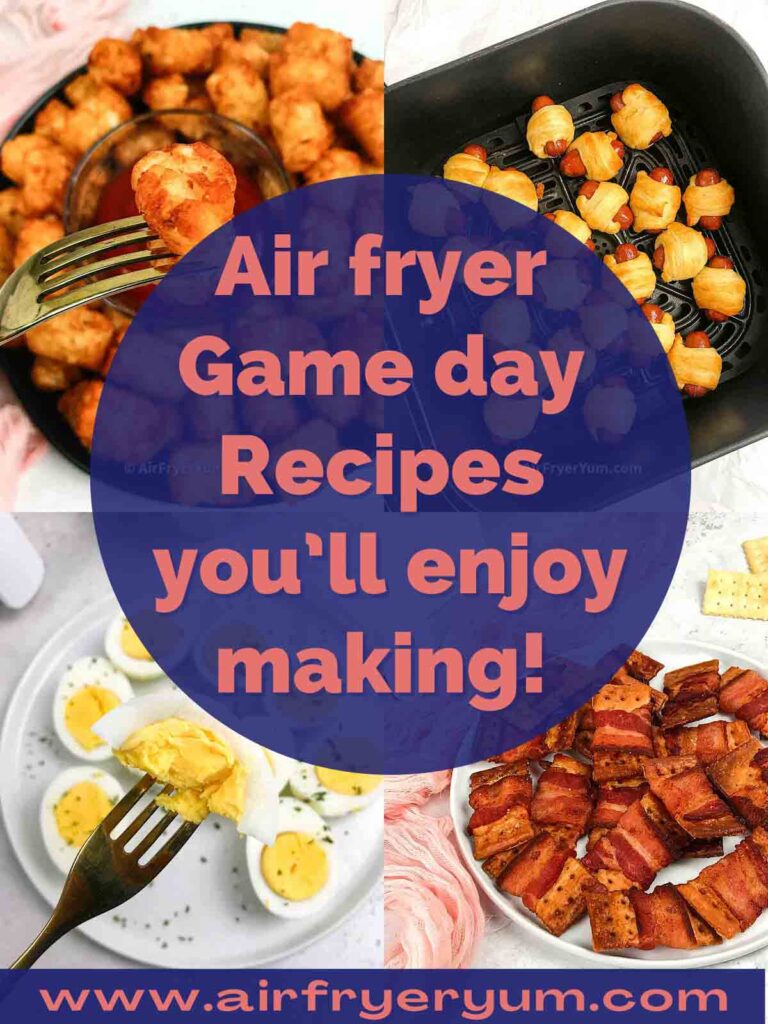 Looking for more air fryer recipes? Sign up for our yummy newsletter and Follow along on Facebook, Instagram, Pinterest and Tiktok for updates. Remember to Subscribe to my YouTube Channel for weekly videos.
Loving your air fryer much? Join other Air Fryer Buddies in our exclusive free Easy Air Fryer Recipes Group on Facebook!
New to the world of Air frying? We've got you covered. Check out our helpful >>> Air fryer Resources!
Shop all air fryers and air fryer accessories at our Amazon store.
Air Fryer Yum's Pro tip! Air fryer temperatures may vary depending on size, make and model. When making a recipe for the first time, start with less time, check for doneness then add more time as needed.
Did you make any of these recipes? Awesome! Please rate it by clicking the stars ⭐️⭐️⭐️⭐️⭐️ when you leave a comment below.