If you are looking to eat healthier in the new year with little or no effort, these Low carb and keto air fryer recipes will serve you well. This is a collection of low carb and keto friendly recipes from meats to vegetables and yes bacon is included. This collection can easily suffice if you are in search of an online air fryer keto cookbook. We also include a cooking chart in form of a printable pdf to use as a guide and reference when cooking.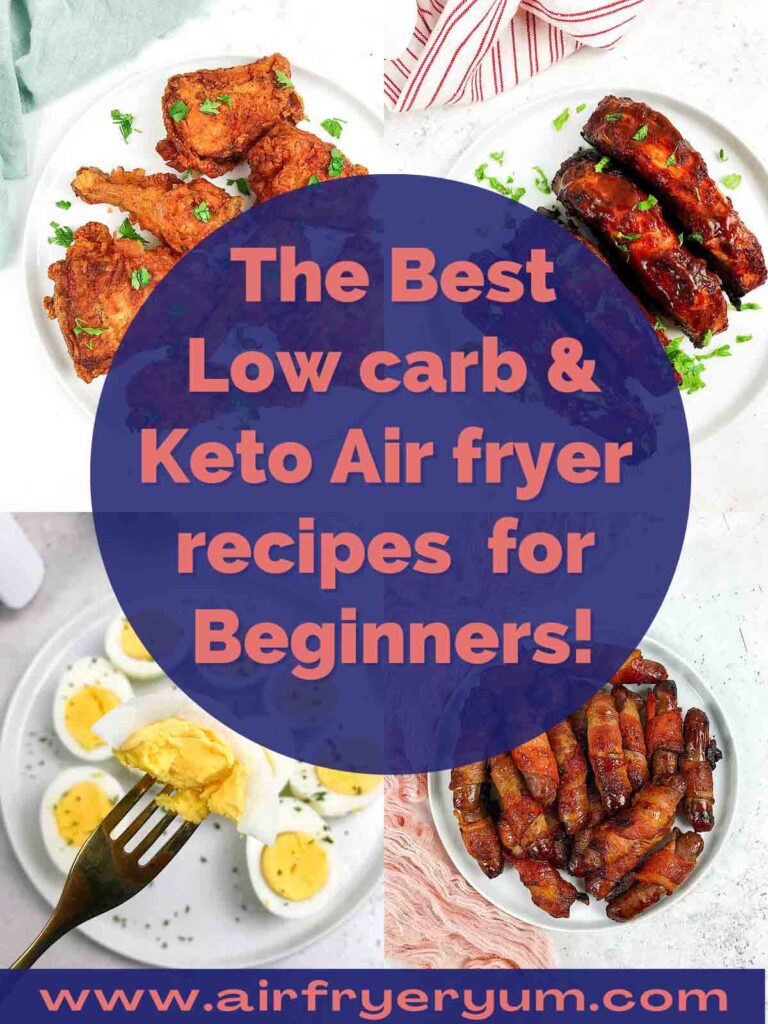 Easy Keto recipes for air fryer
Most keto friendly foods cook very well in the air fryer. Did you know you could cook hard boiled eggs in the air fryer and that the air fryer makes some of the best steak recipes.
Frozen foods are not left out when it comes to air fryer recipes that are low carb. This frozen chicken breast recipe and these frozen chicken wings speak volumes.
How to cook low carb and keto recipes in the air fryer
Making low carb recipes in your air fryer is like any other recipe. Simply gather your ingredients and cook following the instructions stated in the recipes in this collection.
Frozen foods can be cooked from frozen and if cooking meats be sure to use a meat thermometer to ensure they are cooked to a safe internal temperature. The chart also included the minimum internal temp meats should be as recommended by FDA.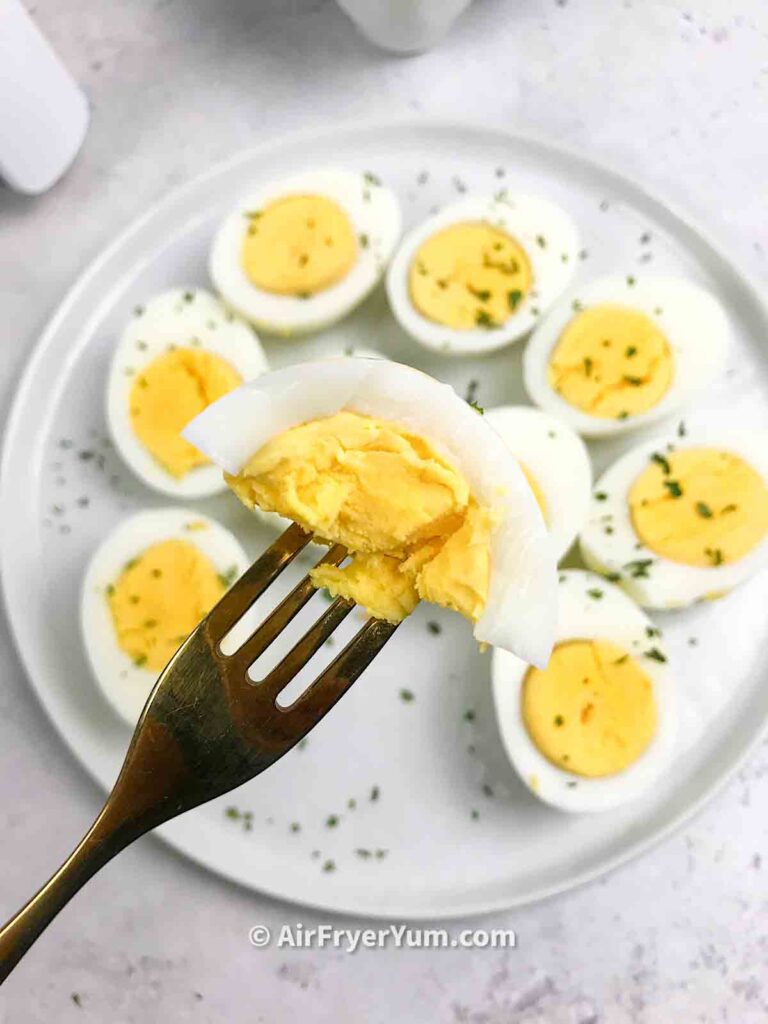 Keto Air fryer recipe cooking chart
As promised, besides sharing the best keto recipes for air frying, I would be sharing this handy free printable pdf chart that has some of my favorite low carb recipe complete with cooking time and guess what? You would definitely find this chart useful because it is written in both Fahrenheit and Celsius.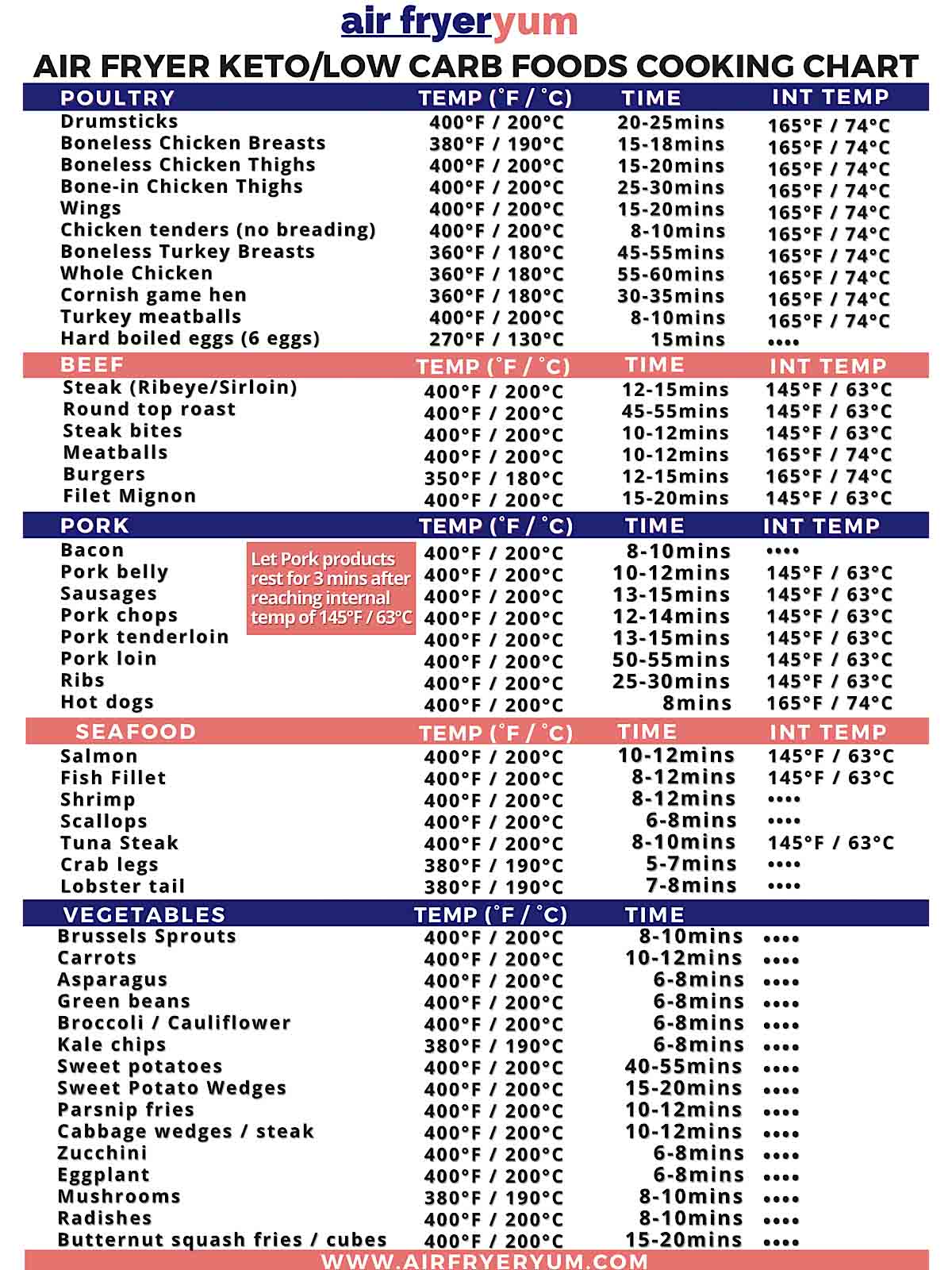 Best Low carb and Keto Air fryer recipes for beginners
You will love this collection of air fryer keto friendly recipes because it contains dinner recipes, chicken recipes, snack recipes, side dishes and more.
Low carb and keto Dinner recipes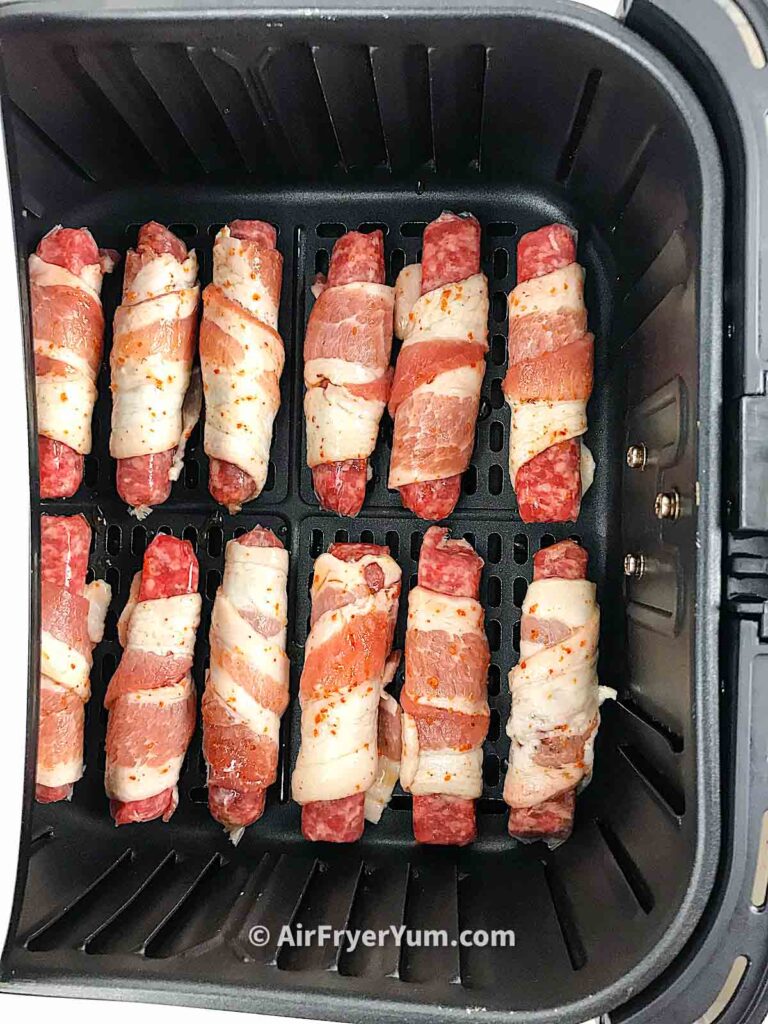 Chicken recipes
Breakfast
Side dishes
Bacon
Appetizers
Helpful tips when air frying keto or low carb foods
You can cook frozen foods from frozen, no need to thaw
A meat thermometer is a very helpful accessory to have. It ensures you cook your meat to a safe internal temperature.
Light Recipes like kale chips or will need you to hold it down with an air fryer rack to prevent it from flying around.
Frequently asked questions
Can you cook keto foods in the air fryer?
Most people on a keto diet that are not vegan or vegetarian eat meats. Trust me when I say some of the best steak or chicken recipes come out of the air fry. So yes, you can cook a variety of low carb and keto friendly recipes in the air fryer.
Can you cook frozen chicken in an air fryer?
Yes you can and it always turns out delish.
More Air fryer recipe collections & resources
Check out all our Air fryer Resources and Recipes!
Did you find this collection helpful? Leave me a comment about it or any recipe idea you would love Air fryer 'yummed' and don't forget to share with family and friends.
Happy Air frying!
Love it? Pin it!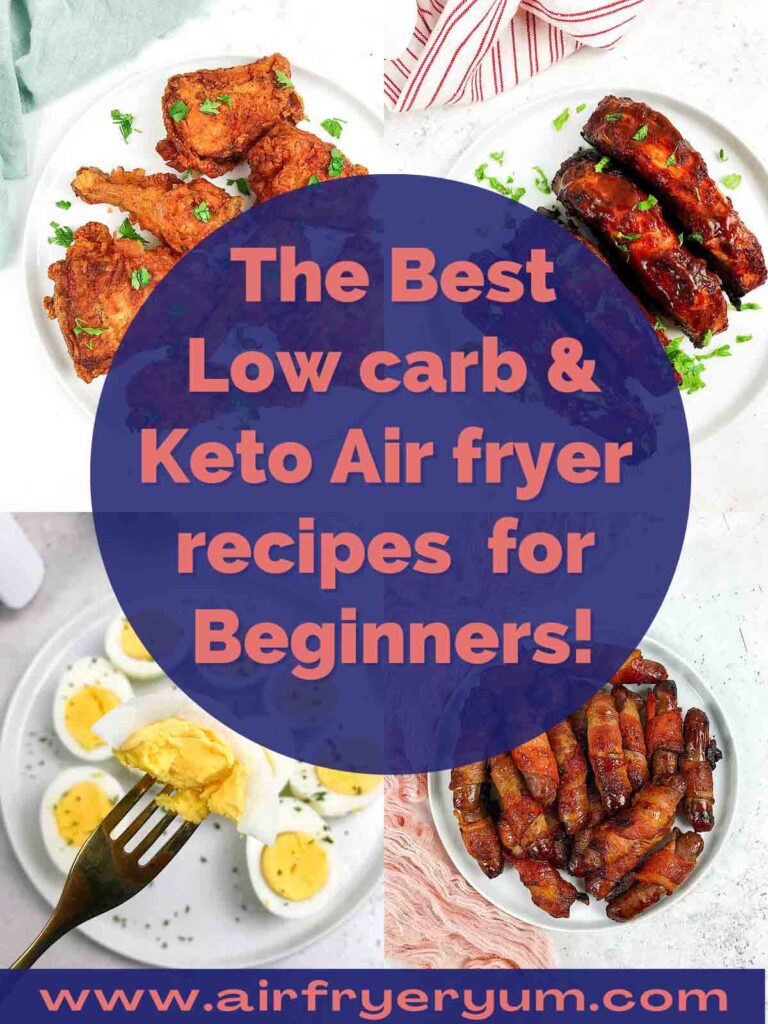 Looking for more air fryer recipes? Sign up for our yummy newsletter and Follow along on Facebook, Instagram, Pinterest and Tiktok for updates. Remember to Subscribe to my YouTube Channel for weekly videos.
Loving your air fryer much? Join other Air Fryer Buddies in our exclusive free Easy Air Fryer Recipes Group on Facebook!
New to the world of Air frying? We've got you covered. Check out our helpful >>> Air fryer Resources!
Shop all air fryers and air fryer accessories at our Amazon store.
Click here to get a Cosori Air fryer for 15% off with Code AFY15
Air Fryer Yum's Pro tip! Air fryer temperatures may vary depending on size, make and model. When making a recipe for the first time, start with less time, check for doneness then add more time as needed.
Did you make any of these Keto Air fryer recipes? Awesome! Please use the Star Rating ⭐️ ⭐️⭐️⭐️⭐️ when you leave a comment, it helps readers out! Also be sure to tag & follow @AirFryerYumBlog on Instagram. We'd love to see your recreations of our recipes!