The air fryer is perfect during the holidays for supporting the oven if you are feeding a crowd. This collection of Air fryer Easter recipes include main dishes, sides and even desserts!
Bookmark this page for when you want to make delightful air fryer recipes for your family all year round.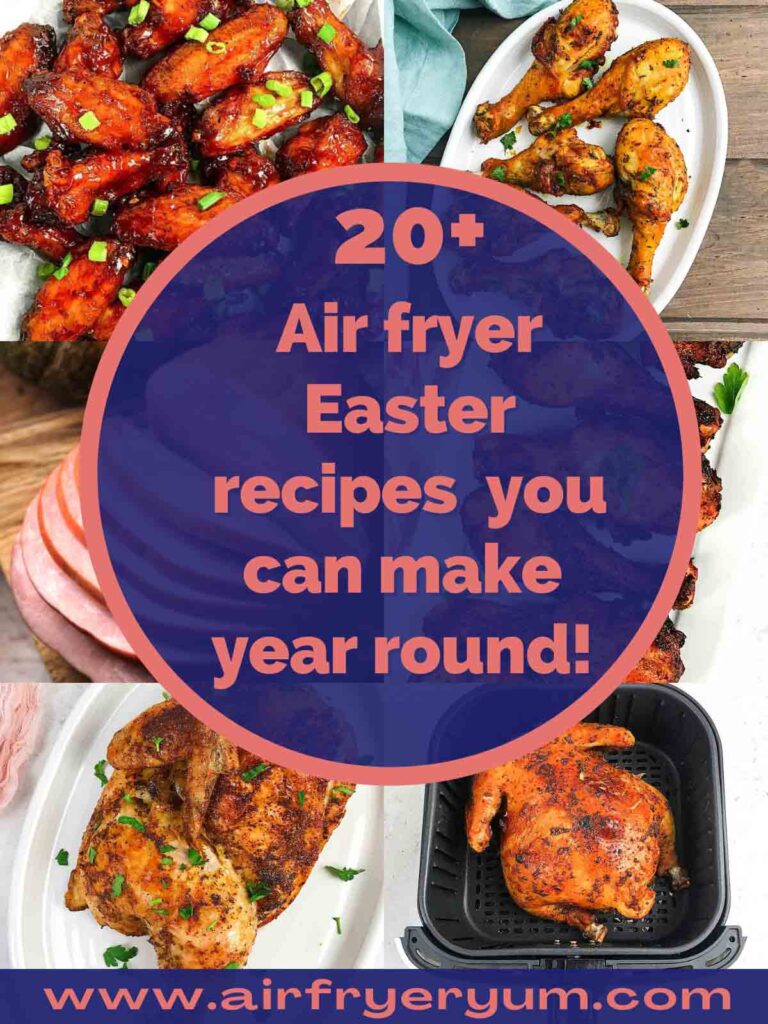 How you can use your air fryer for the holidays
Roasting turkey portions, ham and whole chicken: An air fryer can be a great alternative to the traditional oven when it comes to roasting turkey legs, ham or chicken for the holidays.
Making appetizers: Air fryers are perfect for making quick and easy appetizers for holiday parties. From crispy chicken wings to cheesy jalapeño poppers, you can make a wide variety of appetizers in an air fryer.
Baking desserts: Believe it or not, you can even bake desserts in an air fryer! From apple crisp to brownies, an air fryer can be a great way to make small batches of dessert for the holidays.
Cooking side dishes: Side dishes like roasted vegetables or even frozen Brussels sprouts can be made in an air fryer. This is a great way to free up oven space for other dishes.
Reheating leftovers: After the holidays are over, an air fryer can be a great way to reheat leftovers. The hot air will help keep the food crispy and delicious, just like it was when it was first cooked.
Related: Air fryer Seafood Recipes, Mother's Day recipes.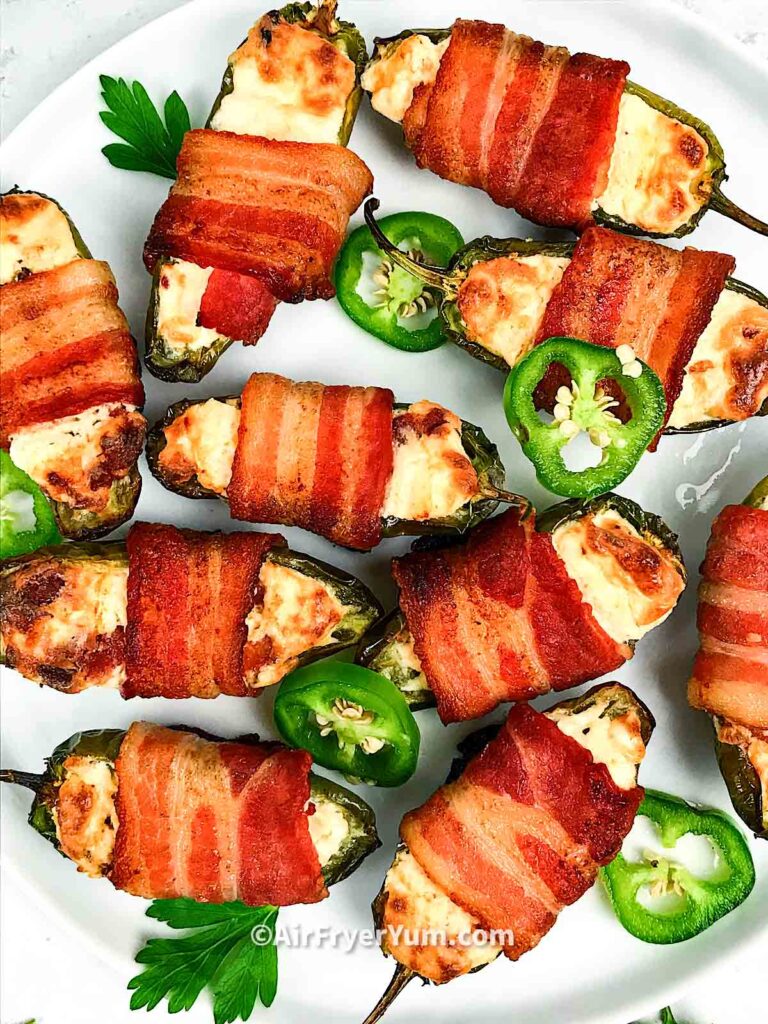 Join our Air fryer recipes group on Facebook!
Air fryer Easter recipes you'll make over and over
These recipes are quick and easy to make and family friendly too. From breakfast to lunch and dinner. You'll find amazing side dishes and deserts. There's something for everyone
Easter air fryer breakfast recipes
1. Air fryer ham and cheese sliders
Air fryer Ham and cheese sliders
Air fryer Ham and cheese sliders made with King's Hawaiian rolls are one of our favorite ways to use up leftover ham. Making ham and Swiss cheese sliders in the air fryer is ridiculously easy and all you need is a few ingredients and less than 10 mins. Isn't this one of the best things ever?
Get this recipe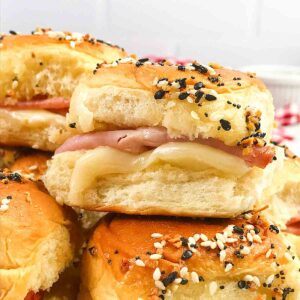 2. Air fryer Cinnamon roll bunnies
Air fryer Cinnamon roll bunnies
Can you bake cinnamon roll bunnies in air fryer appliances? Oh yes! These Air Fryer Cinnamon Roll Bunnies are the perfect fun Easter breakfast! When it comes to kicking off Easter morning with a sweet treat, using your air fryer is a simple way to make that happen.
Get this recipe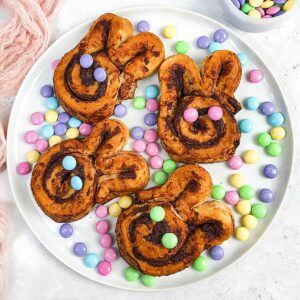 Air fryer Toast
Air fryer toast! Yay!! Easy to make breakfast recipe anyone can make. The air fryer literally makes the best toast bread and it's totally hands free and gets all toasted and delicious. 
Get this recipe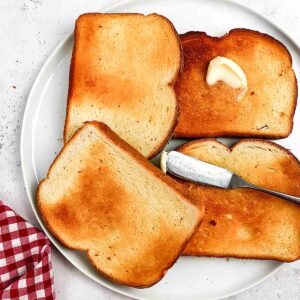 4. Air fryer breakfast sausages
Air fryer breakfast sausage recipe
Can you cook breakfast sausage in air fryer? This a very common question I hear all the time in my Facebook group. Air fryer breakfast sausage is not only a thing but actually turns out very well. 
Get this recipe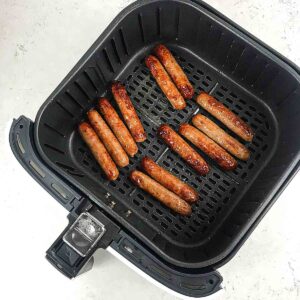 More air fryer breakfast recipes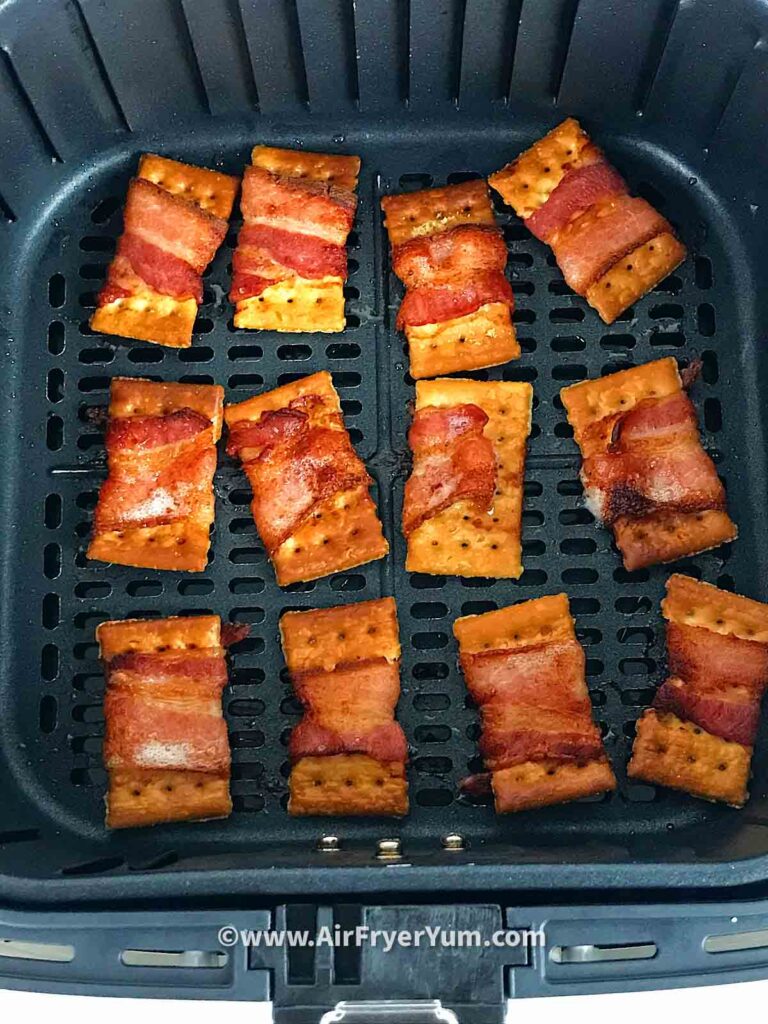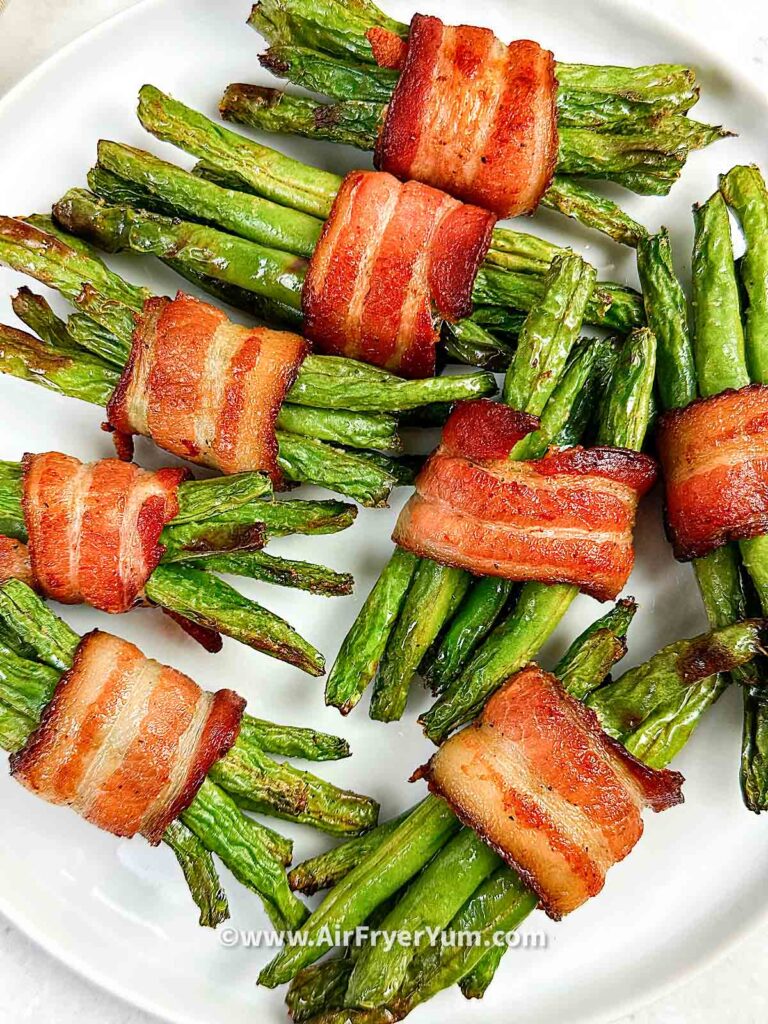 Air fryer lamb chops
The tenderness and flavor of these Air Fryer Lamb Chops literally can't be topped! With this well seasoned lamb recipe made with an easy marinade in your arsenal, now is the time to wow all your family and friends and cook up lamb chops in the air fryer any time they're headed over.
Get this recipe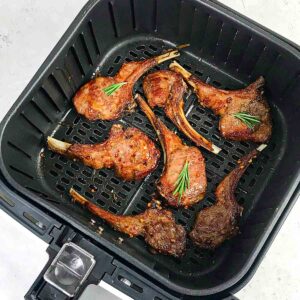 Air Fryer Yum's Pro Tip! Air fryer temperatures may vary depending on size, make and model. When making a recipe for the first time, start with less time, check for doneness then add more time as needed.
Desserts
Air fryer s'mores dip recipe
This S'mores dip recipe is one you need to have. No oven needed just your trusty air fryer and a mini skillet. My kids can't have enough of it! It's a nice campfire treat to enjoy with your family once in a while and you can make this happen indoors and in your Air fryer with just 2 ingredients!
Get this recipe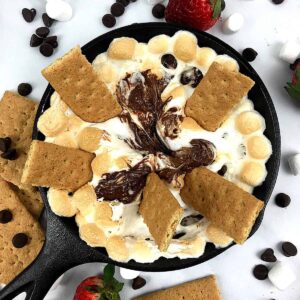 Air fryer cheesecake chimichangas
Air fryer cheesecake chimichangas
Making desserts in the air fryer is one of my favorite things to do. A bite into one of these gooey air fryer cheesecake chimichangas is all you need to try out this easy and delectable dessert in your air fryer. With just 5 ingredients you can make these in less than 10 mins.
Get this recipe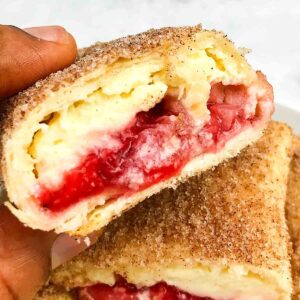 Air fried Oreos with crescent rolls
These air fried Oreos are even better to enjoy than the deep fried Oreos  we get at the fair and all you need to make these are three ingredients and your favorite kitchen appliance. Oreo, Crescent rolls and powdered sugar 
Get this recipe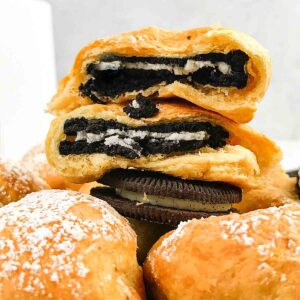 For leftovers
Make this air fryer ham fried rice with leftover ham.
Air fryer Fried Rice (Ham Fried Rice Recipe)
Ham fried rice that's made in the air fryer. This is an Incredibly delicious and flavorful family friendly dish. Making air fryer fried rice requires a few ingredients that's tossed together with cold rice. This is one of the best ways to use up leftover white rice straight from the refrigerator.
Get this recipe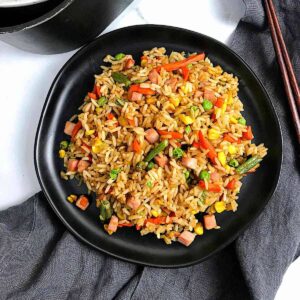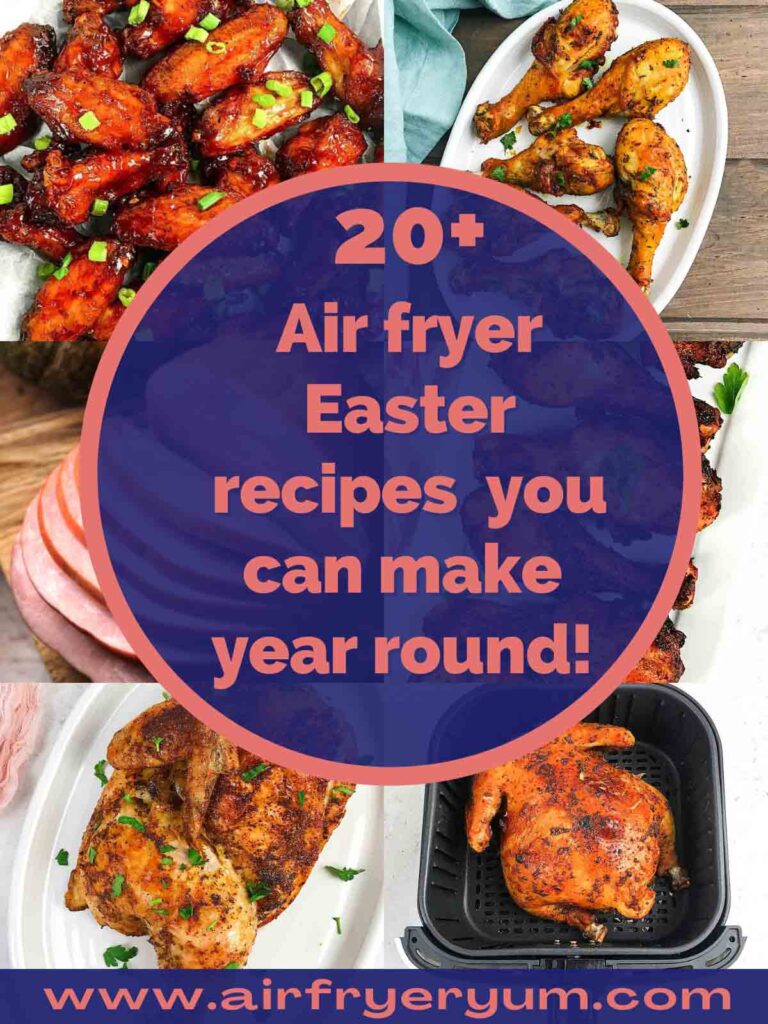 Air frying Tips
No need to preheat the air fryer
Do not overcrowd the basket or tray cook in batches if needed
It's ok to check often when using the air fryer especially if you are using it for the first time.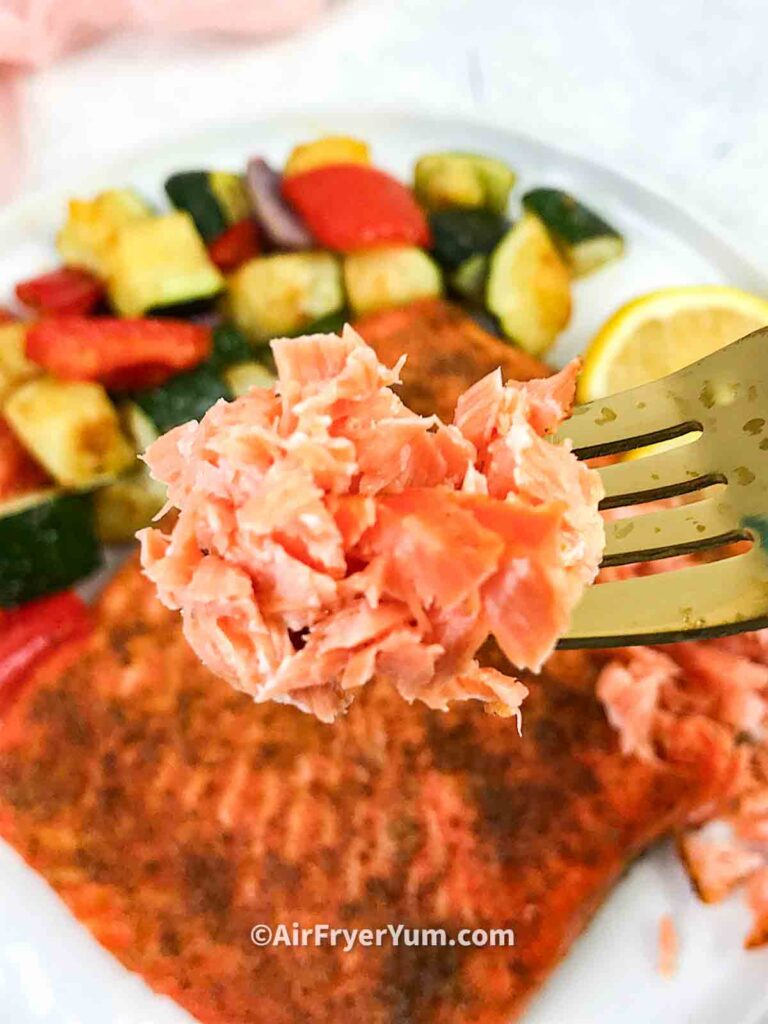 Tools used in most air fryer recipes
The links below may contain affiliate links. As an Amazon associate and affiliate to other merchants, this website may earn from qualifying purchases. Please read full disclosure here
If you try this recipe, show it off on Instagram! Be sure to Follow and Tag @Airfryeryumblog on Instagram and use the hashtag #airfryeryumblog so we can see your recreations!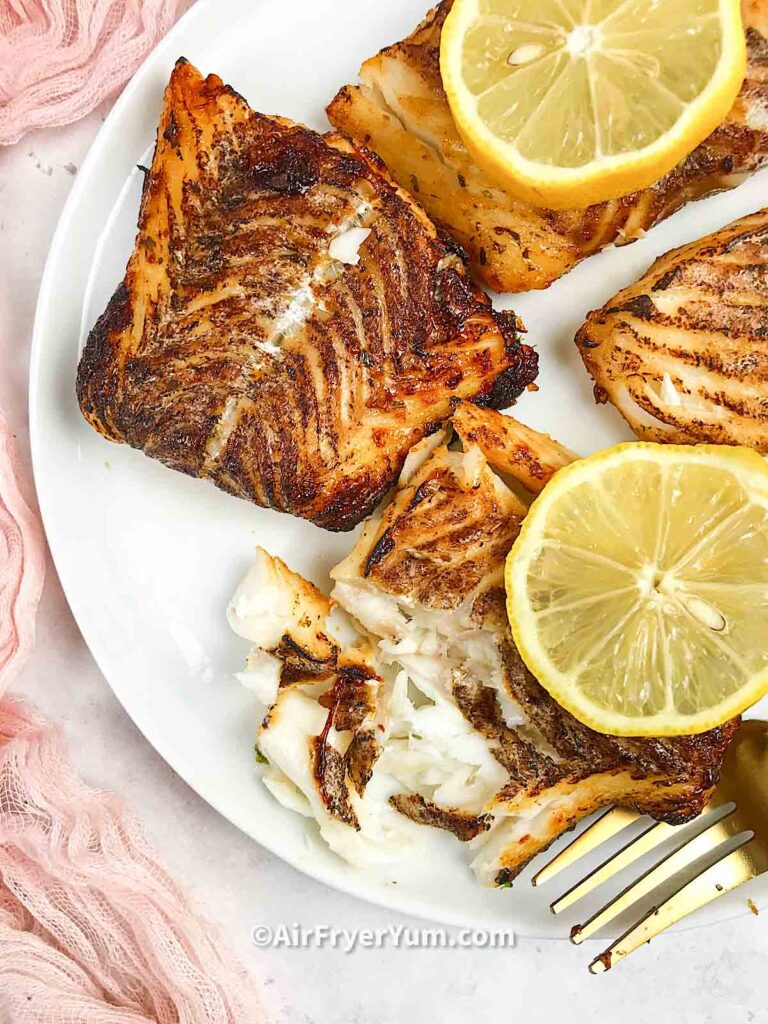 Did you find this collection helpful? Leave me a comment about it or any recipe idea you would love Air fryer 'yummed' and don't forget to share with family and friends.
Happy Air frying!
Love it? Pin it! Then follow Air Fryer Yum on Pinterest for more deliciousness!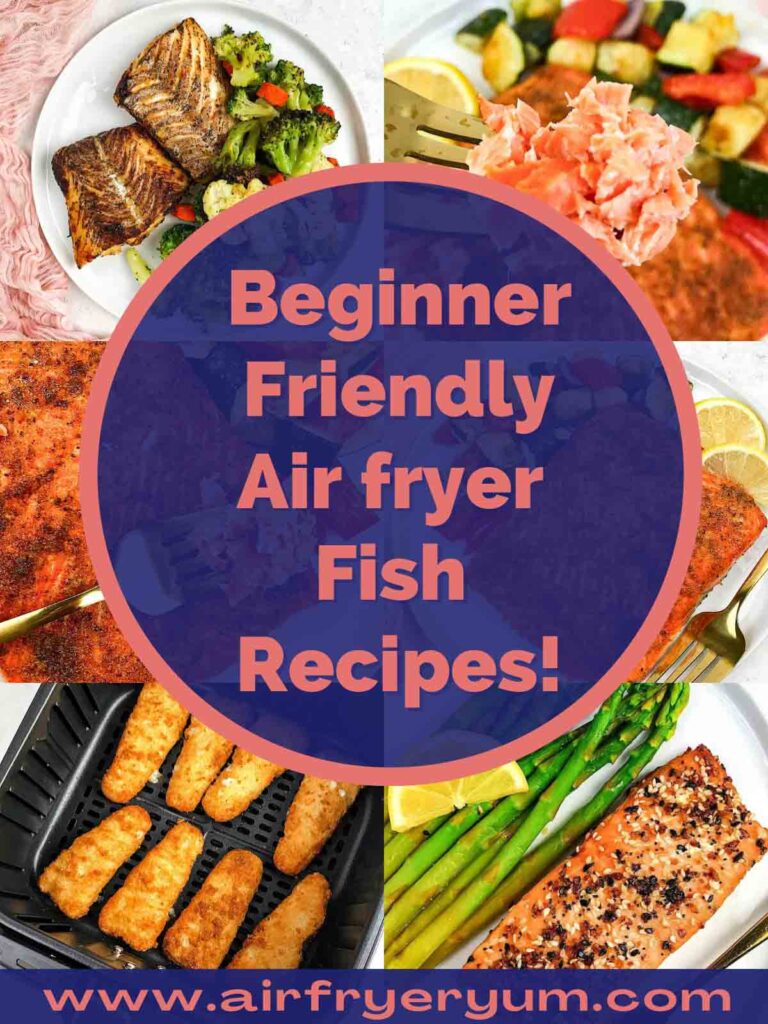 Looking for more air fryer recipes? Sign up for our yummy newsletter and Follow along on Facebook, Instagram, Pinterest and Tiktok for updates. Remember to Subscribe to my YouTube Channel for weekly videos.
Loving your air fryer much? Join other Air Fryer Buddies in our exclusive free Easy Air Fryer Recipes Group on Facebook!
New to the world of Air frying? We've got you covered. Check out our helpful >>> Air fryer Resources!
Shop all air fryers and air fryer accessories at our Amazon store.
Did you make this air any of these air fryer fish recipes? Awesome! Please rate it by clicking the stars ⭐️⭐️⭐️⭐️⭐️ when you leave a comment below. If you loved it please share the link to this recipe with family and friends and in you favorite Facebook group.
Air fryer recommendations
The links below may contain affiliate links. As an Amazon associate and affiliate to other merchants, this website may earn from qualifying purchases. Please read full disclosure here